Ubiquiti 23dBi LiteBeam M5
Product Code: UB-LBE-M5-23

Download Datasheet:
Brand: Ubiquiti
Description
Ubiquiti 23dBi LiteBeam M5
The LiteBeam™ is the latest evolution of a lightweight and compact, outdoor wireless broadband product from Ubiquiti Networks. Each of these models was designed to be an affordable cost/performance solution for long-distance, wireless broadband bridging. It operates in the worldwide, license‐free 5 GHz frequency range with high-performance speeds.
The LiteBeam combines proprietary hardware and software technologies to deliver its breakthrough combination of throughput and range with cost‐effective value. The InnerFeed technology integrates the entire radio system into the antenna feed, and our revolutionary airMAX TDMA protocol enhances network performance and scalability.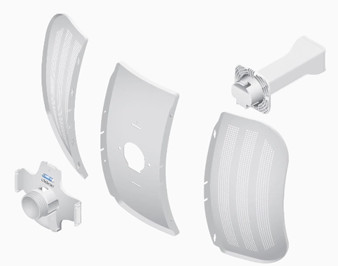 High-Gain, Directional Antenna
The LiteBeamM provides 23 dBi of gain for long-distance connectivity and uses a directional antenna pattern for improved noise immunity.

Integrated airMAX Technology
Unlike standard Wi-Fi protocol, the exclusive Ubiquiti Networks® airMAX Time Division Multiple Access (TDMA) protocol allows each client to send and receive data using pre-designated time slots managed by an intelligent AP controller. This "time slot" method eliminates hidden node collisions and maximizes airtime efficiency. Compared to other systems in its class, the LiteBeam products deliver superior performance in reduced latency, throughput, and scalability.
Compact in Size, Light in Weight
A lightweight form factor contained within ultra-compact packaging, the LiteBeamM is ideal for shipping and logistics.

Full Adjustment Flexibility

The LiteBeam features a unique ball joint mount that provides adjustment flexibility along three axes for versatile mounting options. The mounting system, coupled with the built-in bubble level, enables quick and easy alignment.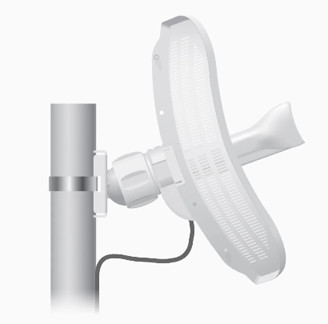 Quick, Snap-and-Lock Assembly
The all-new mechanical design makes assembling the LBE-M5-23 and LBE‐5AC-23 – literally – a snap. No tools are required. Simply snap the feed, antenna panels, rear housing, and ball joint mount together for a secure, solid assembly.