Ubiquiti 23dBi airFiber Slant 45 Antenna
Product Code: UB-AF-5G23-S45

Download Datasheet:
Brand: Ubiquiti
Description
Ubiquiti 23dBi airFiber Slant 45 Antenna

The airFiber® X Antennas feature significant advances in noise isolation and beam performance to complement the airFiber X radios for carrier backhauls and Point-to-Point (PtP) bridging.
Carrier-Class Construction
Incorporating a dish reflector design for excellent beam directivity, the airFiber X antennas feature robust mechanical design using industrial-strength hardware for outdoor application use.
Compact Footprint for Deployment Flexibility
The compact form factor allows the Ubiquiti Networks® airFiber X Antennas to be used in various applications, from carrier backhauls between towers to PtP bridging between buildings.
Plug and Play Integration
The Ubiquiti Networks® airFiber X Antennas are designed to integrate seamlessly with the Ubiquiti Networks® airFiber X radios (sold separately).
Advanced RF Isolation Design
The innovative industrial design improves RF isolation to significantly reduce interference and deliver superior gain for high-capacity, multipoint networks.
The near-field plot of the AF-5G23-S45 is displayed in watts and uses a linear scale. The strength of the electromagnetic field is color-coded:
Red: Highest strength
Green: Medium strength
Indigo: Lowest strength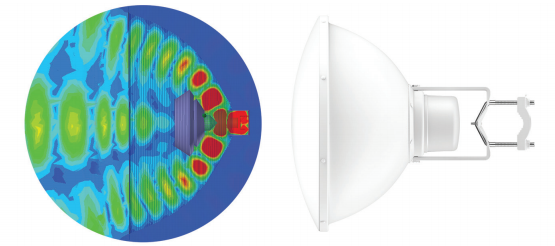 Specification
Antenna Specs
Antenna gain
30dBi
Frequency Range
5.1~5.9 GHz
Polarization
Dual Polarity (Vertical & Horizontal)
Beamwidth
5.8°
Diameter
600mm
Connector(s)
2x RP-SMA Male