UltraLAN Fiber Optic Tool Kit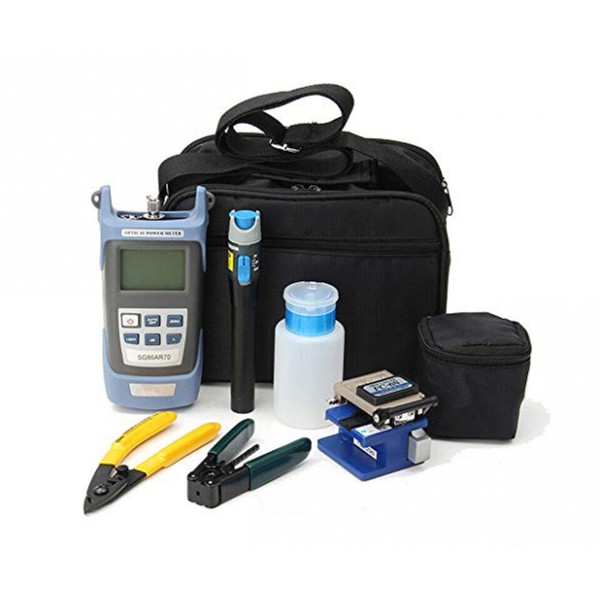 Product Code: FIB-T-TK003

Brand: UltraLAN
Description
UltraLAN Fiber Optic Tool Kit
The UltraLAN Fiber Optic Tool Kit is a must-have essential for any fiber field technician or installer.
The tool kit comprises of the following items:
Fiber Power Meter
The UltraLAN Fiber Power Meter is portable and easy to carry in the field. It features a large readout screen with LED back light.
The meter has a wide testing range and offers seven calibrated wavelengths - 850nm, 980nm,1300nm, 1310nm, 1490nm, 1550nm, 1625nm
Measurements range from -70 - +10 dB.
Visual Fault Locator
The Visual Fault Locator can be used to inspect optical fiber cables and connectors for potential failures and issues when connected to an optical interface and/or with a single mode or multi-mode optical fiber.

Fiber Stripper
This rugged tool features a 1.0mm radiused blade and a 140µm V blade specifically designed for stripping jacket and buffer from 125 micron fiber. An ergonomically designed handle reduces user fatigue.
Fiber FTTx Drop Cable Stripper
The fiber drop cable stripper is designed for stripping flat fiber drop cable used in Fiber to the Home (FTTH) applications. The tool removes the jacket in two locations to expose the dielectric strength members and allowing quick removal of the fiber cable jacket.

Fiber Cleaver
The ultimate tool for single and ribbon cleaving. Built on a robust high-quality platform, the UltraLAN fiber cleaver is ideal for use with fusion splicing or other precision applications, setting a new standard for flexibility and performance. By using a rotating blade for multiple scoring positions enables a typical blade life of 36000 cleaves or more, with a cleave angle better than 0.5 degrees.
Fiber Cleaning Wipes

Easy to Carry Tool Bag