Ubiquiti NanoStation M5
Product Code: NSM5

Download Datasheet:
Brand: Ubiquiti
Description
Ubiquiti NanoStation M5

The NanoStation®M is ideal for Point-to-MultiPoint (PtMP) applications requiring high-performance CPE devices with a sleek form factor.
Compact CPE Design
The NanoStation®M features the CPE design that expanded the global Wireless ISP industry. New antenna array designs featuring a 16dBi dual-polarity 5GHz panel antenna with optimized cross-polarity isolation and in a compact form-factor.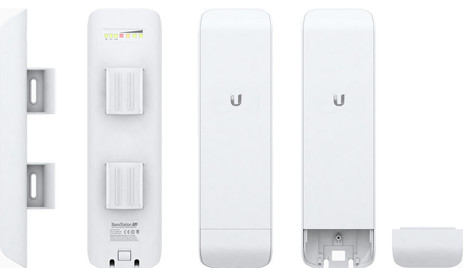 Versatile Application Use

The NanoStation®M can be deployed for Point-to-Point (PtP) bridging, wireless connectivity to a video surveillance system, or use as an airMAX® CPE.

Dual Ethernet Connectivity

The secondary Ethernet port can provide an external device with data connectivity, such as a security camera, for seamless IP video integration.

Powerful airOS® Features
Ubiquiti's versatile airOS® firmware technology enables high-performance, outdoor multi-point networking. airOS provides features such as wireless settings, bridge or routing configuration and system management services.