Reolink RLC-81MA 4K Smart Dual-Lens PoE Camera with Dual View
Product Code: RLC-81MA

Download Datasheet:
Brand: Reolink
Retail incl VAT : R2,399.00
Description

Dual Lens, Dual View
Get two lenses with one-time installation. With a 109° panoramic view* captured by the wide-angle lens and a close-up view by the telephoto lens, the camera protects what you care most without losing sight of any corner. You can check the two images at one glance as they are displayed on one screen.

Stunning Clarity with 4K Ultra HD
Thanks to 4K 8MP resolution, RLC-81MA will capture high-quality images and videos. Whether in live view or playback, everything is as crystal and clear as real, down to the smallest detail.
This video was captured by the wide-angle lens.


Flexible Night Mode Options
Switch between three night modes according to your need: the Black & White Mode, Color Night Mode, and Smart Night Mode. With the Smart Night Mode enabled, the spotlight will be automatically triggered when motion is detected and everything will be captured in full-color.

Advanced Detection: Fast and Accurate
Applying smart detection technology, the RLC-81MA will accurately detect people, vehicles, and pets, and send notifications to your mobile phone in no time. By focusing on what really matters, it reduces false alarms caused by leaves or flying insects.

Double Warning & Effective Protection
When the RLC-81MA detects movement, you'll get push notifications right away. At the same time, the siren and spotlight will be activated automatically or manually to warn off intruders.

Two-Way Audio for Real-Time Talk
Thanks to the built-in mic and speaker, you'll have a two-way communication with your visitors, the unwelcome, or your furry friends.

Beauty Awakens in Time Lapse Videos
There are some amazing moments that cannot be captured by the naked eye. But with the time lapse feature, you can condense long-term changes like sunrise or snowfall into film-like short videos and reveal the breathtaking beauty.
* The time lapse feature is only supported in its wide-angle view and is incompatible when the camera is connected to NVRs.
Fast Installation within Minutes
Thanks to the Power over Ethernet (PoE) technology, RLC-81MA is ready to use once connected. It receives data and will be powered simultaneously via only one network cable. No cable clutter.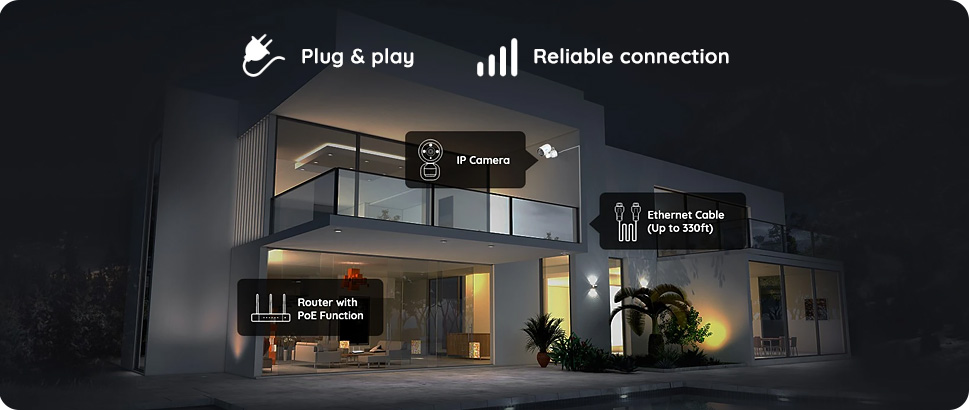 Flexible Storage Options
RLC-81MA supports 24/7 continuous, motion-triggered or scheduled recording. It can be saved to microSD card, Reolink NVR or FTP server. Choose a way you like and enjoy customized security.

Reolink NVR
If you want to save videos for a much longer time or to manage multiple cameras centrally, you can simply connect the camera to a compatible Reolink NVR or surveillance system.
* Reolink NVRs are recommended for best performance. Also, the NVR fimware must be updated for dual-view displaying.
No Fear of Bad Weather
With a rugged and IP66 waterproof housing, the IP camera works perfectly in all weather conditions. Ideal for indoor and outdoor use.




Real-Time Alerts

Once the camera detects suspicious events, it will send you a instant push notification or email with a snapshot.





Live View

Always keep an eye on your home when you're out and about. So you'll always know if everything is going well around the house.





Smart Playback

Replay your saved videos and filter them by event type and timeline to quickly find what you want to see.





Customized Motion Zones

Customize motion zones and decide from which areas you'll receive alerts and which areas will not.

Control Your Cameras, Hands-Free

As easy as saying "Hey Google, show me the backyard", you can check what's happening there on your Google Nest Hub or Chromecast-enabled TVs.
Find how to connect Reolink to Google Assistant
* Note: Only its wide-angle view supports Google Assistant, which is incompatible when camera is connected to NVRs.
Package Contents
RLC-81MA Camera • Waterproof Lid • 1m Network Cable • Quick Start Guide • Mounting Template • Surveillance Sticker • Pack of Screws