UltraLAN 42U Outdoor Free-standing Network Cabinet




Product Code: CAB-C-6842OD

Brand: UltraLAN
Description
UltraLAN 42U Outdoor Free-standing Network Cabinet

UltraLAN's outdoor free-standing cabinets are designed to protect your sensitive network equipment from harsh environments. The cabinet is made from durable cold-rolled steel and finished with a powder coating to protect it from the elements and corrosion. Several features are incorporated to safeguard the cabinet from the elements, while still keeping the equipment secure and well ventilated. These outdoor cabinets include a high-grade polyurethane door joint strip for better protection against water & dust, rain hood, and is secured with a 3-point swing handle locking system.
Air ventilation is critical for the well being of your equipment, and the UltraLAN cabinet features vents on the front door as well as sides panels. In addition, metal mesh filters are set into a double wall on the inside, adding to dust ingress protection while still allowing air to pass through for better cooling inside the cabinet.
The UltraLAN outdoor cabinet includes 4 ceiling mounted fans which rapidly expels hot air through the vents situated underneath the overhang of the roof. Cable entry is allowed from the bottom of the cabinet through rubber glands. For even further protection, the outdoor cabinet can be bolted into the ground to prevent it from being moved away.
Features:
Body depth of 800mm
Vented front door with 3-point locking system and replaceable filter
Made from powder-coated cold-rolled steel
Supplied flat-packed for easier transport
Adjustable 19" mounting rails with numbered U markings
Round cable glands with removable rubber covers on the base
4-way ceiling mount fan kit included
Please take note:
The outdoor free-standing cabinets are supply flat packed for transport purposes. Assembly is still required.
Due to the size and weight, we are not able to courier free standing cabinets regrettably.
You are welcome to collect any free standing cabinets from our offices, or to arrange a courier to collect from us.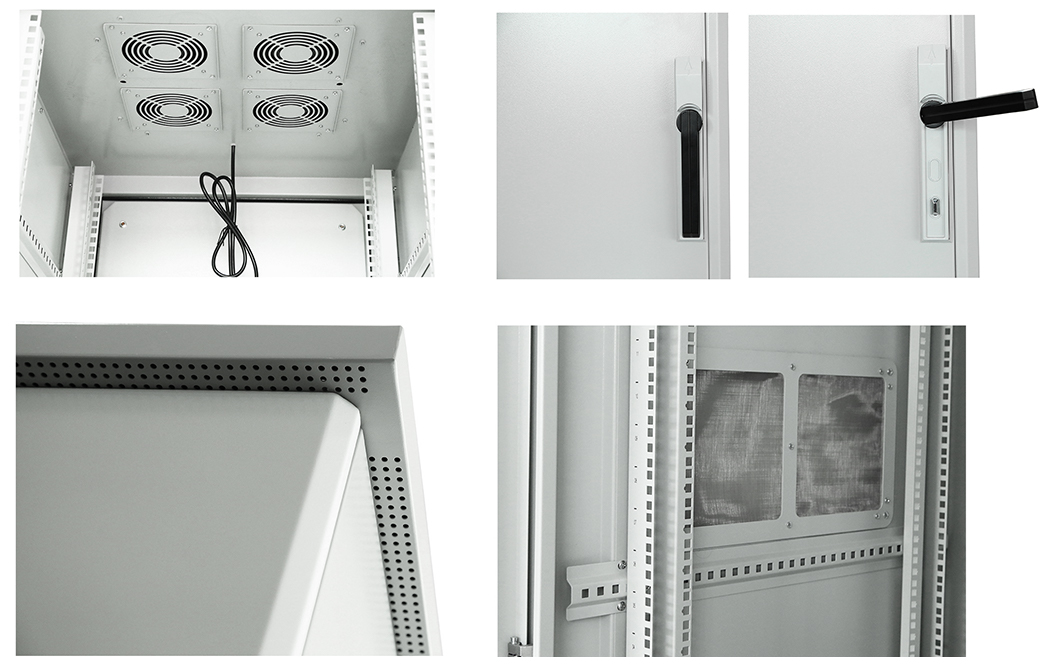 Specification
Cabinet Specs
Cabinet Dimensions (H x W x D)
42U, 600x800mm
Vertical Rack Space
42U
Horizontal Rack Mounting Space
19 inch
Fan Mountings
4 ceiling mount fans (included)