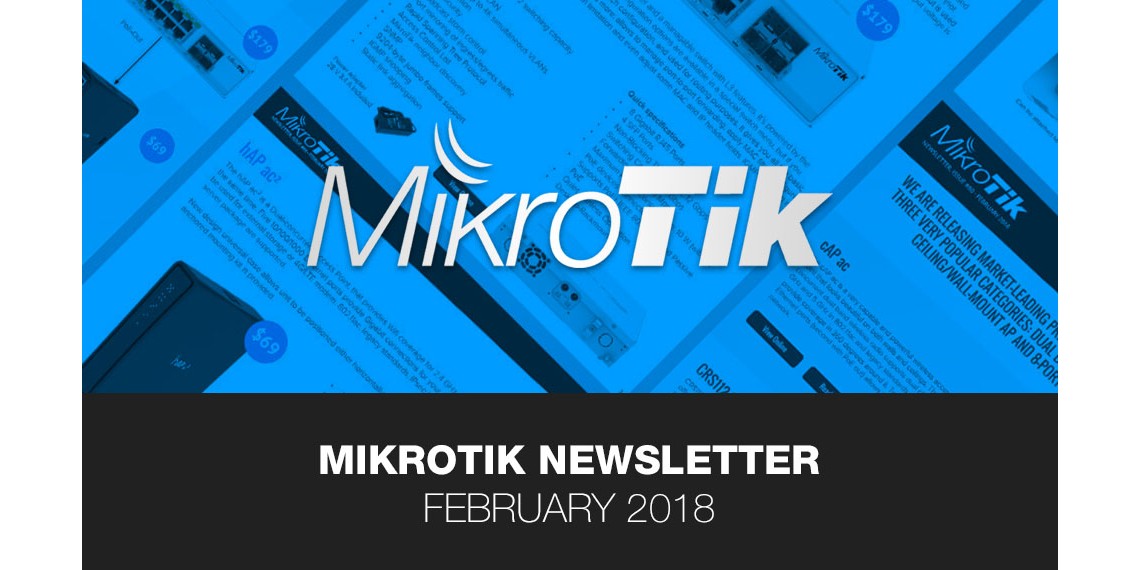 MikroTik Newsletter - February 2018
Times Read: 8809
cAP ac
The cAP ac is a very capable and powerful wireless access point that looks beautiful on both walls and ceilings. The concurrent dual band wireless radio supports dual chain 2 GHz and 5 GHz in 802.11ac and legacy standards, and will provide coverage in 360 degrees around it. Even though the radio supports repeater mode, the two Gigabit Ethernet ports give you the ability to extend your network with cables, even if PoE power is required, since the cAP ac supports 802.3af/at PoE input on the first port, and passive PoE output (up to 57 V) on the second port.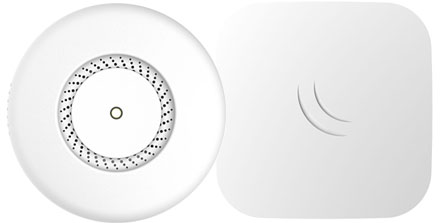 The cAP ac is a feature packed device with a sleek enclosure, that can become inconspicuous with the push of a button - the customizable mode button in the device center will turn off all lights and sounds at it's default configuration, but can be reconfigured to launch any RouterOS script.
The device comes bundled with two enclosures, so you can choose the design you like best.
CRS112-8P-4S-IN
CRS112-8P-4S-IN is eight Gigabit RJ45 ports PoE switch, that offers different power output options: auto-sensing 802.3af/at PoE/PoE+ and Passive PoE, and four SFP ports provide optical fiber connectivity options to support uplinks of up to 1 Gbps.

CRS112-8P-4S-IN is equipped with 12 independent switching ports. 28 V 3.4 A power supply is already included in the box. There is secondary DC jack on the back of the enclosure that supports 48-57 V power supply (not included, can be purchased separately). CRS112-8P-4S-IN can power 802.3af/at devices if 48 V DC input is used (unit will automatically detect and provide correct power to devices). Max current is 1 A per port if input voltage is 18-28 V, 450 mA if 48-57 V. Total limit is 2.8A@24V and 1.4A@48-57V.

Our CRS series combines a fully functional router and a managable switch with L3 features, it's powered by the familiar RouterOS. All the specific switch configuration options are available in a special switch menu, but if you want, ports can be removed from the switch configuration, and used for routing purposes. It gives you all the basic functionality for a managed switch, plus more: allows to manage port-to-port forwarding, apply MAC filter, configure VLANs, mirror traffic, apply bandwidth limitation and even adjust some MAC and IP header fields. IGMP snooping is also supported.
Switching features:

Non-blocking Layer 2 switching capacity

16K host table

IEEE 802.1Q VLAN

Supports up to 4K simultaneous VLANs

Port isolation

Port security

Broadcast storm control

Port mirroring of ingress/egress traffic

Rapid Spanning Tree Protocol

Access Control List

MikroTik neighbor discovery

SNMP

9204-byte jumbo frames support

IGMP snooping

Static link aggregation


Quick specifications:

8 Gigabit RJ45 Ports

4 SFP Ports

Non-Blocking Throughput: 12 Gbps

Switching Capacity: 24 Gbps

Forwarding Rate: 17.8 Mpps

Maximum Power Consumption: 10W (without PoE devices connected)

Supports PoE+ IEEE 802.3at/af and Passive PoE

Quiet, Fanless Operation

Desktop-Rackmount

hAP ac²

The hAP ac² is a Dual-concurrent Access Point, that provides Wifi coverage for 2.4 GHz and 5 GHz frequencies at the same time. Five 10/100/1000 Ethernet ports provide Gigabit connections for your wired devices, and USB can be used for external storage or 4G/LTE modem. 802.11ac, legacy standards, IPsec Hardware encryption and dude server package are supported.

New design universal case allows unit to be positioned either horizontally (desktop) or vertically (tower case). Wall anchored mounting kit is provided.

The hAP ac² can be powered from the power jack or with passive PoE from a PoE injector. The power adapter is included. The hAP ac² is preconfigured, so all you need to do, is plug in the Internet cable, the power, and start using the internet by connecting to the MikroTik network.
wAP 60G
The wAP 60G and wAP 60G AP are weatherproof integrated 60 GHz wireless units, that can be used indoors or outdoors in different scenarios - Base Station (only wAP 60G AP), Point-to-Point and CPE (wAP 60G AP and wAP 60G). The box includes a wall mounting kit, straps for pole mounting, power supply, PoE injector and also table stand for using the device indoors. Penetrates some windows depending on material.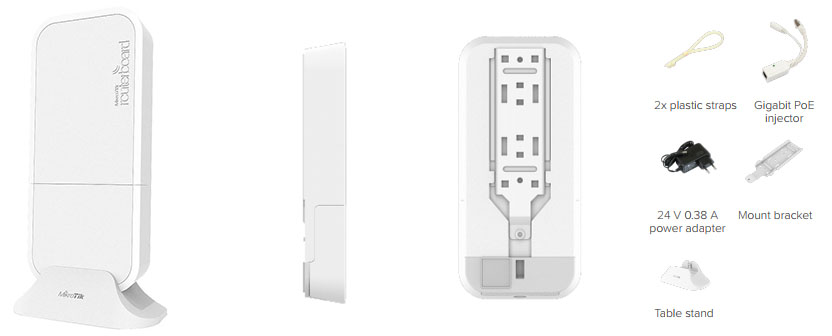 Point-to-Multipoint

wAP 60G AP and wAP 60G allows to create high-speed Point-to-Multipoint setup in 60 GHz frequency that is not affected by the crowded WiFi spectrum. In such scenario, wAP 60G AP (comes with RouterOS L4 license for AP connections and 60 degrees antenna) can be used as Base Station / Access Point. wAP 60G AP supports up to eight simultaneous clients (wAP 60G with L3 license) on distances of 100m+.




LHG XL 5 ac & LHG XL 2

- the latest additions to the LHG series

The Light Head Grid (LHG) is a compact and light wireless device with an integrated dual polarization grid antenna at a revolutionary price. It is perfect for point-to-point links or for use as a CPE at longer distances. Several models are available with standard power, high power and even the XL with a higher gain and larger grid.

LHG XL 5 ac
LHG XL 5 ac model is equipped with High Gain 27 dBi 5 GHz antenna and supports 802.11ac standard, as well as legacy 802.11a/n.

LHG XL 2
LHG XL 2 model is equipped with High Gain 21 dBi 2.4 GHz antenna and supports 802.11b/g/n.



LTE miniPCI-e cards

With so many RouterBOARD devices with miniPCIe slots available, finally you can use an official MikroTik LTE card that was designed specifically for use in RouterOS, for the widest LTE frequency band support and official RouterOS drivers. The card is a Cat4 LTE device with speeds up to 150 Mbit in LTE bands, but is also backwards compatible with legacy networks.

It comes in two varieties, a model for the United States and another for the rest of the world - choose the model for your location, to have the best suited LTE frequency bands. The card has two u.FL connectors, so you are free to use any external LTE antenna and build your own solution with any of our devices that have miniPCIe and a SIM slot, such as the M33G, Netmetal or the new wAP R.



LDF 5 ac - Gigabit Ethernet speed
The LDF (Lite dish feed) is an outdoor wireless system with a built in antenna, meant to be installed on satellite offset dish antennas. The dish will act as a reflector, amplifying the signal. This means you can use any available satellite TV dish with an offset mount to quickly deploy powerful long range wireless links. The offset mount is universal at 40 mm diameter, and the LDF can easily be placed inside it. Since the LDF itself is a tiny little package, it makes shipping and deployment simple and low cost.
There are two models available, the LDF 5 is lower cost and has 802.11n with a 10/100 Mbit port, while the LDF 5 ac has a higher speed CPU, more RAM, has a Gigabit port and supports 802.11ac for higher throughput.

New way to match websites in firewall
Since most of the internet now uses https, it has become much harder to filter specific web content. For this reason, RouterOS 6.41 introduces a new firewall matcher which allows you to block https websites (TLS traffic) based on the TLS SNI extension, called "TLS-HOST". The new parameter supports glob-style patterns, which should be enough for whatever you're trying to match.

For example, to block example.com, you would use a rule like this:
/ip firewall filter add chain=forward dst-port=443 protocol=tcp tls-host=*.example.com action=reject