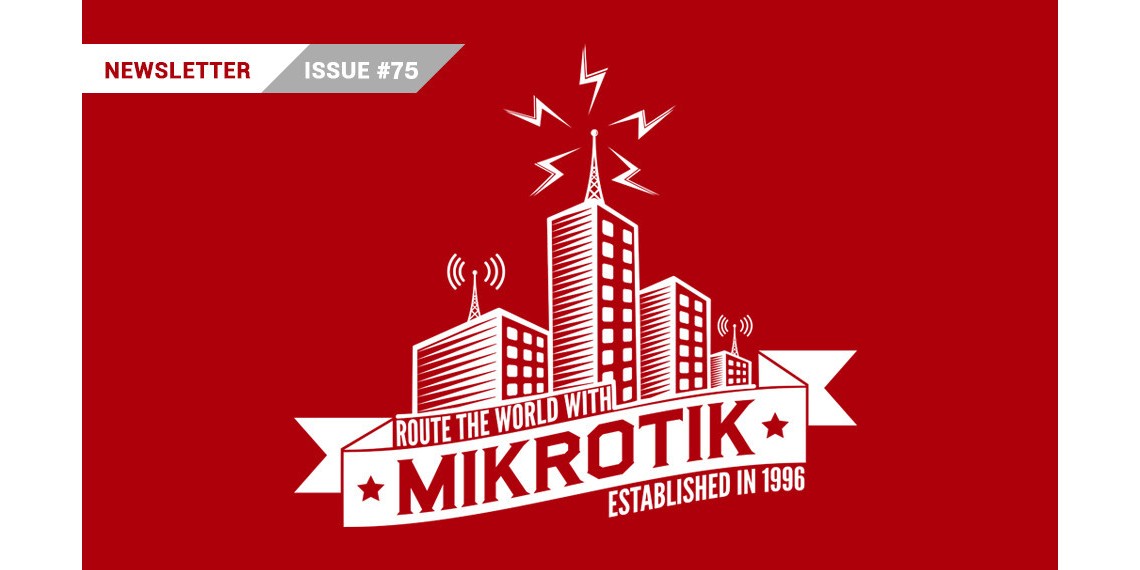 MikroTik Newsletter - Issue 75
Times Read: 2340
MikroTik Newsletter
Issue #75 -
Download PDF
cAP Lite
The cAP lite is a tiny access point device with a clean and simple design which will blend into any environment. Perfect for public locations and hospitality businesses like hotels, airports, shopping malls etc. where you can easily place it out of sight, or customize it's looks, to make it even less conspicuous.
Included with the product are two different casings, which can easily be swapped out, or, if you really like to fit the design with the environment, we are providing 3D printer friendly design files. The customization possibilities are endless.
The cAP lite supports 802.11b/g/n 300Mb/s two chain wireless and can be powered by power over 100Mb/s Ethernet. It's a perfect companion for the MikroTik CAPsMAN (controlled AP system manager), allowing you to control all your AP devices from one central location. The cAP lite can also be used as a stand alone access point with the full potential of RouterOS.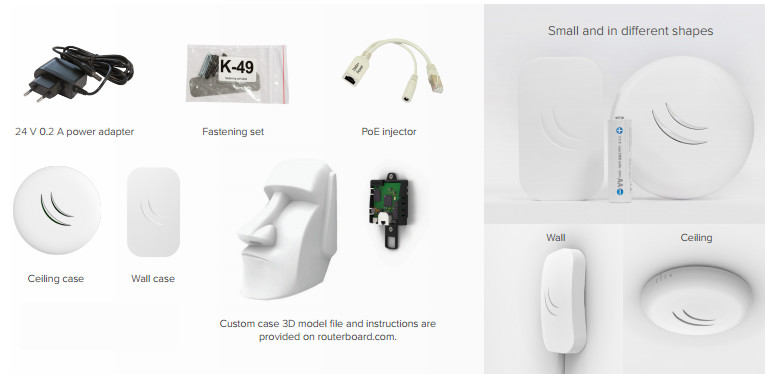 DISC Lite5
We are glad to introduce a new high gain 5GHz CPE. By using a unique and innovative short backfire antenna design, we were able to achieve 21dBi antenna gain in a compact and easy to deploy package.
DISC Lite5 is equipped with 21dBi dual chain 802.11n integrated CPE with 600MHz CPU, 64MB RAM, 1x 10/100Mbps Ethernet port and RouterOS L3 installed. It comes complete with a power supply, PoE injector and mounting ring.
The device is also compatible with our quickMount mounting attachment. The RouterOS Level3 allows to use the DISC Lite5 as a CPE or for 5GHz Point-to-Point links.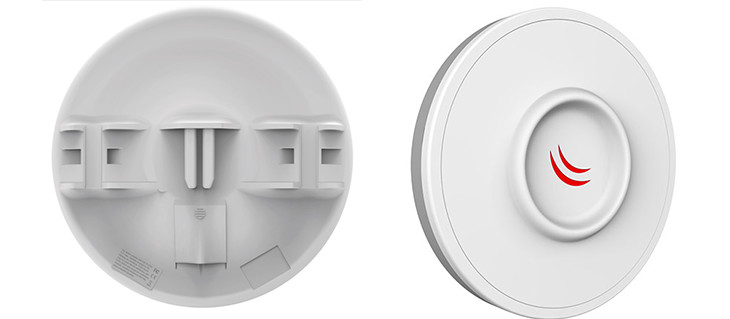 Wireless Specifications

CSS326-24G-2S+RM
SwOS powered 24 port Gigabit Ethernet switch with two SFP+ ports, wire speed connectivity with several new switching features. The device is powered by a Marvell DX switch chip. The device is running an operating system designed specifically for MikroTik switch products - SwOS.

SwOS is configurable from your web browser. It gives you all the basic functionality for a managed switch, plus more: allows to manage port-to-port forwarding, apply MAC filter, configure VLANs, mirror traffic, apply bandwidth limitation and even adjust some MAC and IP header fields. SFP cage supports both 1.25 Gb SFP and 10 Gb SFP+ modules.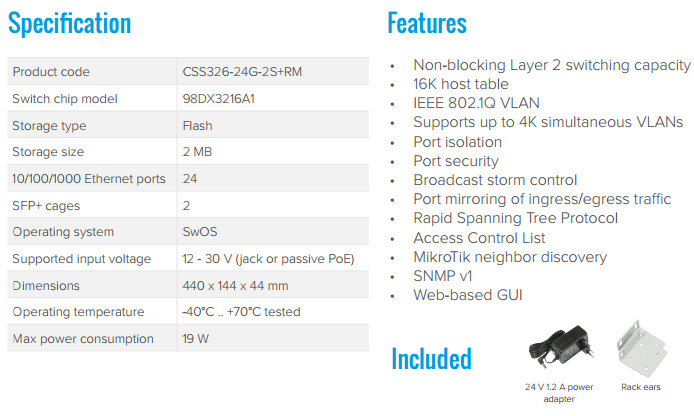 CRS106-1C-5S
The Cloud Router Switch 106-1C-5S is a desktop size smart switch, equipped with one Gigabit Ethernet / SFP combo port and five 1.25Gbps SFP cages. The package includes a power supply. Powered by a 400MHz CPU and 128MB RAM, it runs RouterOS with a L5 license and supports 11-30V power.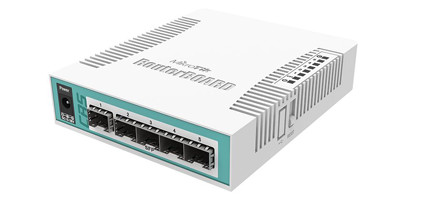 TR-069 improvements in 6.39RC
We are also continuing our work to improve TR-069 support, and have now updated the list of tested platforms with one more (AVSystem, Axiros, Friendly Tech). Several improvements have been added in the latest RouterOS release v6.39RC:

added Parameters for DNS client management

added /tr069-client connection-request-username/password settings

regenerate Connection Request URL on each tr069-client restart for extra security as recommended by standard

added support for Connection Request Digest Access Authentication (this is required by standard but didn't make into previous version)

Dual boot lets you choose between SwOS and RouterOS
We are glad to introduce a new feature for our switch devices - dual boot! Beginning with our CRS3xx series due this summer, you will have the opportunity to choose which operating system you prefer to use, RouterOS or SwOS.
If you prefer to have a simplified switch only OS with more switch specific features, use SwOS. If you are used to Winbox and would like the ability to use routing and other Layer 3 features on some ports in your CRS, you can boot RouterOS. You will be able to select the desired operating system from RouterOS, from SwOS or from the RouterBOOT loader settings.