Ubiquiti UniFi Dream Machine
Product Code: UB-UDM-EU

Download Datasheet:
Brand: Ubiquiti
Description
UniFi Dream Machine
All-in-one device with access point, 4-port switch, and security gateway. Everything you need for a small-scale wired and Wi-Fi network.
UniFi Dream Machine (UDM) is the easiest way to introduce UniFi to homes and businesses. The UDM includes everything you need for a small-scale wired or Wi-Fi network. It's easy to use and still offers all the benefits of UniFi for homes and businesses.


Powered by a fast 1.7 GHz quad‑core processor, the UDM combines multiple functions into a single elegant device.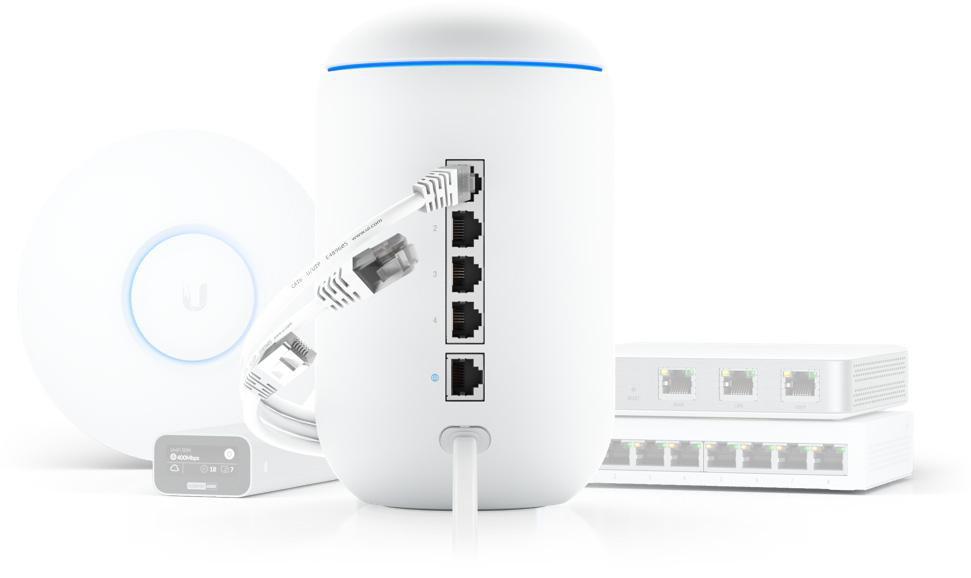 Integrated 4x4 Enterprise AP

The UDM delivers the requisite high‐performance Wi‐Fi and fits into high‐density environments as part of the overall enterprise network.



Integrated Cloud Key

The UniFi Network Controller can provision UniFi devices, map out networks, and quickly manage system traffic.


Integrated Security Gateway

The UDM offers advanced firewall policies and persistent threat management to act as an Intrusion Prevention System (IPS) and Intrusion Detection System (IDS).



Integrated Gigabit Switch

The UDM provides a managed 4-port Gigabit switch so you can easily add network storage or wired client devices.


UniFi Network Controller with Intuitive User Interface
Centralized management software featuring a graphical user interface offers easy setup and convenient control.






Scalable UniFi Network Controller

The UniFi® Software-Defined Networking (SDN) platform is an end-to-end system of network devices across different locations — all controlled from a single interface.







Try the Demo Controller



Features:
High‐Performance Dual Band 802.11ac 4x4 Wave 2 AP
Managed 4-Port Gigabit Switch
Advanced Security Gateway with IDS/IPS and DPI
UniFi Network Controller with Intuitive User Interface
Scalable Through Additional UniFi Devices Connected to LAN
Powered by Fast 1.7 GHz Quad-Core Processor