TOTO-LINK EX200 300Mbps Wireless N Range Extender
Product Code: TO-EX200

Download Datasheet:
Brand: TOTO-LINK
Description




EX200 is a 2.4G wireless N range extender designed to expand the coverage of existing Wi-Fi network to eliminate "dead spots". By pressing the WPS button on both EX200 and router in two minutes, Wi-Fi network could be extended quickly and easily. With wall-plugging design, two high performance antennas, up to 300Mbps wireless N speed, EX200 can meet users' demands for wireless Internet access on hard-to-reach areas.





300Mbps Wi-Fi Speed
The EX200 supports advanced 802.11n standard and is backwards compatible with 802.11b/g. It provides 300Mbps wireless data transmission rate and most reliable connection for users to enjoy the best wireless connection in your entire home.
Compact-design
With it's small size and simple power supply it can be can follow you anywhere. It is very convenient for users who often travel.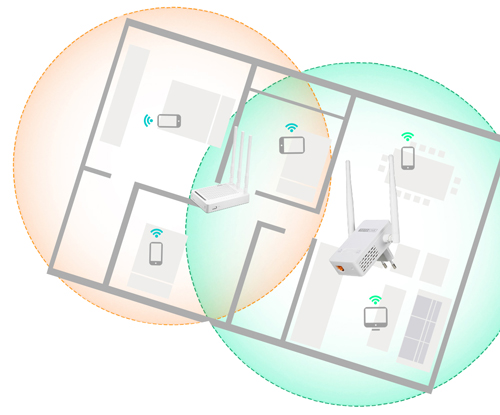 Effortlessly Extending Wi-Fi Coverage
The EX200 is ideal for users who are having WiFi connectivity problems due to being in a building with many obstacles. It covers a wider area as it can increase the distance over which the WLAN signal spreads in a certain location. You can place it between the router and the devices and have it function as a network repeater that can pick up the WiFi signals from a primary router.
One Click Network Setup
If you are tired of complicated settings for network connections, the EX200 is perfect for you. No configuration and no wiring. Just click the WPS button of the router and also the Extender for few seconds, then a wireless connection will be established automatically. More devices can access the Internet via the wireless network duplicated from the original router if you place it at the optimum position.
Advanced Security
The most advanced WPA/WPA2 (TKIP/AES) encryption is provided to ensure the security of wireless connection. Only the users who know the SSID and encryption key can connect to the network, so that users needn't worry about unauthorized users.
Features
Complies with 802.11b/g/n standards.
Up to 300Mbps date rate for Wi-Fi network.
Two external antennas enhance the throughput's stability.
Portable and compact stylish design.
Supports quick setting by smart phone.
Supports WPS (Wi-Fi Protected Setup) Wi-Fi extension by one-click.
One Ethernet port for connecting wired devices to wireless network.
Energy saving and environmental protection.