TOTO-LINK A800R AC1200 Wireless Dual Band Router




Description



TOTO-LINK A800R AC1200 Wireless Dual Band Router
1.2Gbps Fast Wi-Fi
Adapting the next generation IEEE 802.11ac standard, the A800R deliveres wireless speed up to 1167Mbps, optimized for internet acttivities requireing high bandwidth such as HD videos and online gaming.

MU-MIMO Technology
Coupled with a MU-MIMO adapter, the latest 802.11ac wave2 technology with Multi-User MIMO allows several users to connect at the same time to share up to 3X faster WiFi than standard AC routers.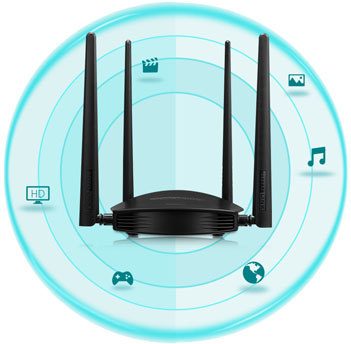 Simultaneous Dual Band
2.4GHz and 5GHz bands working concurrently make two separated WiFi networks available for you to choose, of which the 2.4GHz WiFi shows high compatibility and 5GHz band reduces interference, perfect for lag-free games and large-file downloading.






Easy setup by smart phone


Optimized user inteface for smart phones - the A800R allows you to finish the basic settings & configuration simply and quickly with a few steps via your smart phone, saving you time and hassle to get your router up and running.










1GHz CPU for Powerful Performance


With a built-in 1GHz CPU, the A800R ensures powerful data handling capacity, as well as long WiFi transmission distance and wide coverage.

Multiple Wireless Networks for Controlling Access
More then one wireless network can be added on the configuration, allowing you to provide secure WiFi access to guests sharing your home or office WiFi connectivity.