TP-LINK AV1200 Gigabit Powerline ac Wi-Fi Kit
Product Code: TL-WPA8630K

Download Datasheet:
Brand: TP-LINK
Description
TP-LINK AV1200 Gigabit Powerline ac Wi-Fi Kit
Enjoy Excellent Wi-Fi Coverage Throughout Your Home

Expand your Wi-Fi network using your home's existing powerlines. Plug in the TL-WPA8630K to transmit an internet connection to any area in your home and share that connection with all of your favorite wired and wireless devices. A unified network keeps your connection stable, even as you move around the house.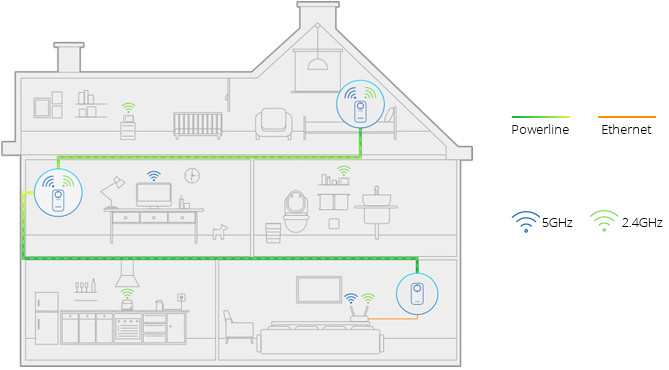 Fast Dual Band Wi-Fi Speeds Up to 1200Mbps
The TL-WPA8630 utilizes 802.11ac Wi-Fi to deliver dual band connections with combined speeds of up to 1200Mbps, including 867Mbps on the 5GHz band and 300Mbps on the 2.4GHz band. The combination of impressive speed and convenient powerline networking allows you to provide fast, reliable connections throughout your entire home. This is perfect for 4K streaming and online gaming, on multiple devices at the same time.
Excellent Powerline Transfer Speed Up to 1200Mbps
The advanced HomePlug AV2 standard allows the extender to support 2x2 MIMO* with Beamforming Technology, providing users with ultra-fast data transfer speeds of up to 1200Mbps. This is ideal for supporting Ultra HD streaming video, online gaming, large file transfers, and other bandwidth-intensive activities on multiple devices simultaneously.
2X2 MIMO with Beamforming
More Stable Connections
2x2 MIMO is like adding extra lanes to a highway. It established multiple simultaneous connections, allowing you to enjoy higher speeds and greater stability.


Better Long Distance Performance
2X2 MIMO with Beamforming Technology also offers the benefit of improved coverage throughout the home, particularly for previously hard to reach outlets.


Plug, Pair and Play!
Plug the TL-PA8010P into the wall and use an ethernet cable to connect it to the router.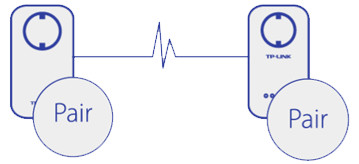 Plug the companion TL-WPA8630 into the desired power outlet.
Press the 'Pair' button on both adapters to create a secure network.
Congratulations! You can now start enjoying fast, seamless wired and wireless connections.
* Powerline adapters need to be connected to the same electrical circuit.
Unify Your Network with the Wi-Fi Clone Button
The TL-WPA8630 can automatically copy the wireless network name (SSID) and password of your main router with the touch of a button. After pressing the Wi-Fi Clone button, you can place the powerline adapter anywhere and start enjoying a seamless network that extends throughout your entire home or office.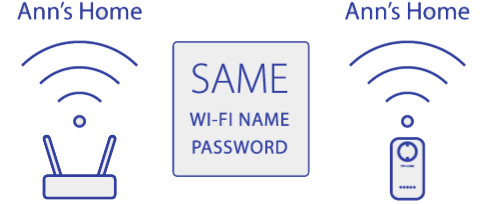 Extra Power Socket
The integrated power socket (up to 16A) means that you can still get power from the outlet for your other devices. Just plug your device into the integrated socket the same way you would with a normal wall outlet. Moreover, the built-in noise filter helps to eliminate electrical signal noise that might otherwise affect powerline transmission performance.
More Gigabit Ethernet Ports, More Devices
Equipped with 3 gigabit Ethernet ports, TL-WPA8630 allows you to connect several bandwidth intensive devices such as game consoles, smart TVs or media receivers to the Internet at high speeds, just plug in network cables and enjoy fast and stable wired network anywhere at home.
Specification
Powerline Specs
Standards
HomePlug AV2, IEEE 1901,IEEE 802.3, IEEE 802.3u, IEEE 802.11b/g/n 2.4GHz, IEEE 802.11a/ac 5GHz
Modulation Technology
OFDM (PLC)
Ethernet Interface
3x Gigabit Ethernet Ports (on WPA8630 model), 1x Gigabit Ethernet Port (on PA8010 model)
Wireless
300Mbps (802.11b/g/n) on 2.4GHz, 867Mbps (802.11a/ac) on 5GHz
Powerline Max Sync Rate
Up to 1200Mbps
Security
Powerline: 128-bit AES, Wireless: WEP, WPA/WPA2