TP-LINK AV600 Powerline Universal Wi-Fi Range Extender, 2 Ethernet Ports, Network Kit




Product Code: TL-WPA4220TKIT

Brand: TP-LINK
Description
AV600 Speeds and 300 Meters Range
Using advanced HomePlug AV technology, TL-WPA4220 TKIT provides stable and high-speed data transmissions of up to 600 Mbps* for ranges up to 300 meters where there is a power outlet. No interference on electrical or electronic equipment. Stream in HD, game online and download large files without interruption thanks to reliable powerline links.
Extend Wired and Wireless Network to Any Room Using Existing Electrical System
The powerline products TL-WPA4220 TKIT transforms your home's existing electrical circuit into a high-speed network, and brings wired and wireless networks to anywhere there is a power outlet.
No need for new wires or drilling
Network passes through walls and floors
Compatible with any Wi-Fi routers or other powerline products
Expand coverage by adding more extenders
HomePlug AV 600Mbps
300Mbps Wi-Fi
Note: Powerline adapters must be deployed in sets of two or more and be connected to the same electrical circuit.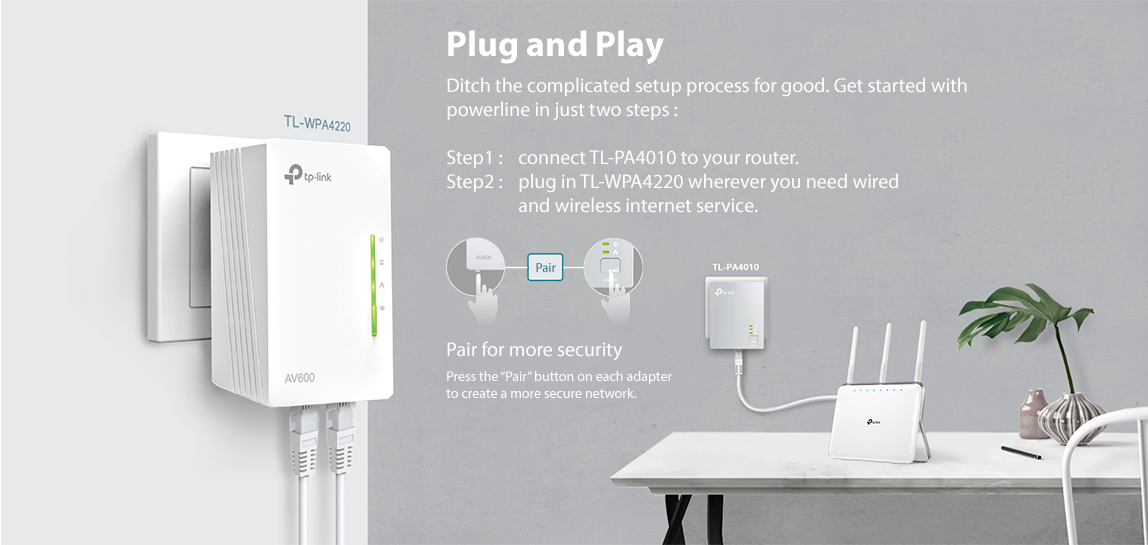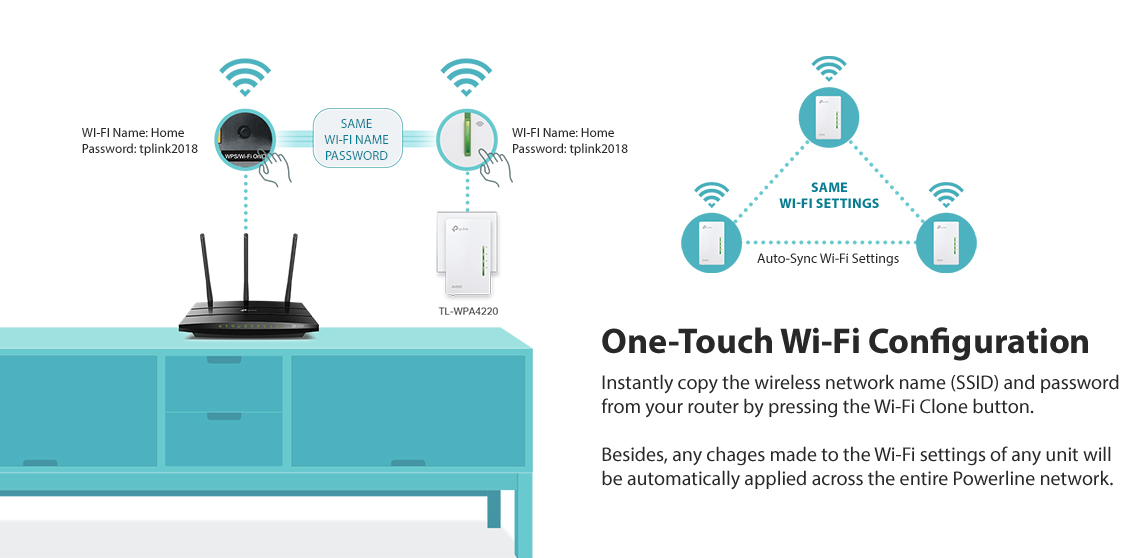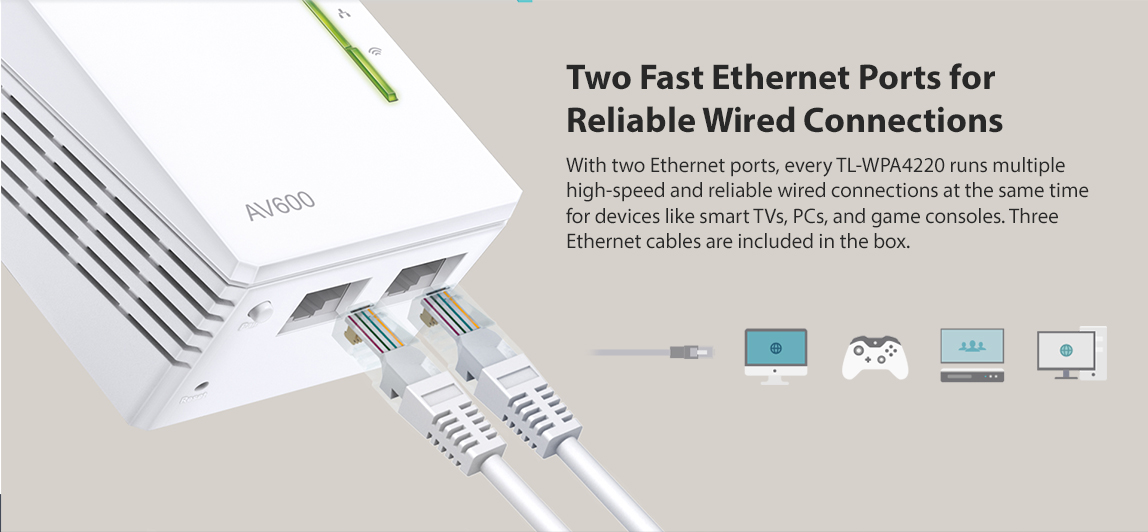 Powerline Management on Your Smartphone
Manage your powerline Wi-Fi through tpPLC app from your smartphone (Android, iOS), or download new tpPLC Utility on PCs to manage the powerline network.
View real-time powerline speed
LED control
Guest network
Features:
Extend wired and wireless network to any room using existing electrical system
One-Touch Wi-Fi Extension - Wi-Fi Clone Button simplifies your Wi-Fi configuration and helps build a seamless unified home network
HomePlug AV standard providing up to 600 Mbps1 high speed data transmission over a home's existing electrical wiring, ideal for lag-free HD or 3D video streaming and online gaming
Extend 300 Mbps wireless connections to previously hard-to-reach areas of your home and office
Two fast Ethernet ports of every extender enable TL-WPA4220 to run multiple high-speed and reliable wired connections for devices
*TL-WPA4220T KIT contains TL-WPA4220 x 2 and TL-PA4010 x 1
Specification
Powerline Specs
Standards
HomePlug AV, IEEE802.3, IEEE802.3u, IEEE802.11b/g/n
Modulation Technology
OFDM (PLC)
Ethernet Interface
TL-WPA4220: 2× 10/100 Mbps Ethernet Port TL-PA4010: 1× 10/100 Mbps Ethernet Port
Wireless
Up to 300Mbps (802.11b/g/n)
Powerline Max Sync Rate
11n: Up to 300Mbps(dynamic) 11g: Up to 54Mbps(dynamic) 11b: Up to 11Mbps(dynamic)