TP-LINK SX1008 - 8 Port 10G Desktop/Rackmount Switch




Product Code: TL-SX1008

Download Datasheet:
Brand: TP-LINK
Description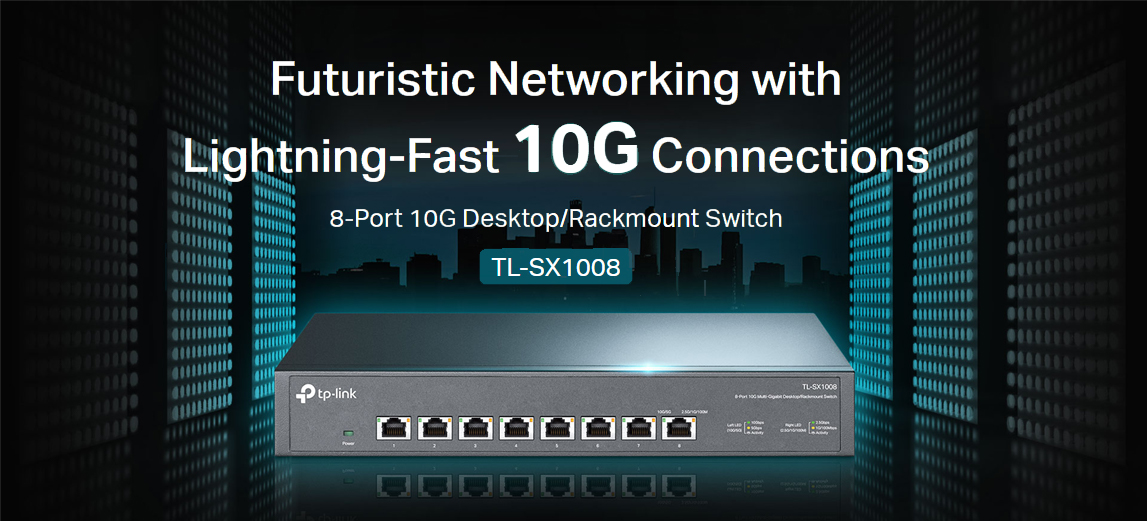 Unlock the Highest Performance of 10G/Multi-Gig Bandwidth and Devices
As the flagship 10G product, TL-SX1008 is an 8-port 10G desktop/rackmount switch, providing up to 160 Gbps of switching capacity. Auto-negotiation 5-speed (100Mbps/1G/2.5G/5G/10G) connections sense the link speeds and intelligently adjust for compatibility and optimal performance for all your devices, including 10G NAS, 10G server, workstation, gaming computer, 2.5G/5G/10G WiFi 6 AP, 8K video, desktop, and more.

Ready for Immediate Network Upgrading to 10G?
Reliable, lightning-fast connections and the lowest possible latency make it ideal for gaming and small office and home office use.


Lightning-Fast Connections for Business and Home Office
Work at office or home with lightning-fast connections to workstations, desktop computers, and WiFi 6 access points.


Ideal for Home Entertainment




Enjoy Buffer-Free 8K Videos

Enjoy buffer-free multi-channel 8K videos with friends and family for movie nights with maximum entertainment.






More 10GE LAN Ports for WiFi 6 Networking

Expand the 10GE LAN ports of your WiFi 6 routers and connect more devices—all running at max 10 Gbps.

Low-Noise Operation and Robust Design
Intelligent fan speed adjustment ensures minimal noise to be non-distracting when in use. Durable metal casing and a heat dissipating design guarantee a wide operating temperature (0–50 ℃) that make it ideal for virtually any working environment.

Just Plug and Play for Internet Access
A plug-and-play design allows for easy deployment without the need for a technician. Auto MDI/MDIX eliminates the need for crossover cables.

Flexible Deployment Options
The versatile mounting system gives you the flexibility to place the TL-SX1008 on a desktop or mount it in a rack.

Same Cables, New Speed
Designed to integrate flawlessly into existing gigabit Ethernet network infrastructures, guaranteeing speeds 5x faster using standard Cat5e Ethernet cables—no Cat6 wiring needed. With Cat6a or higher rated cables, 10G connections are built up to 100 meters (328 feet).