TP-LINK 8-Port 10/100Mbps + 3-Port Gigabit Desktop Switch with 8-Port PoE+
Product Code: TL-SL1311MP

Download Datasheet:
Brand: TP-LINK
Description


Professional 11-Port Switch with 8-Port PoE+ (124 W Budget) for Numerous Applications
Compliance with the 802.3af/at PoE+ standard supports up to 30 W on each PoE port. The total 124 W PoE power budget* for the 8× PoE+ ports opens up a wide range of applications, such as surveillance for offices, dormitories, and small businesses. It is fully compatible with IP cameras, access points, IP phones, computers, printers, and more.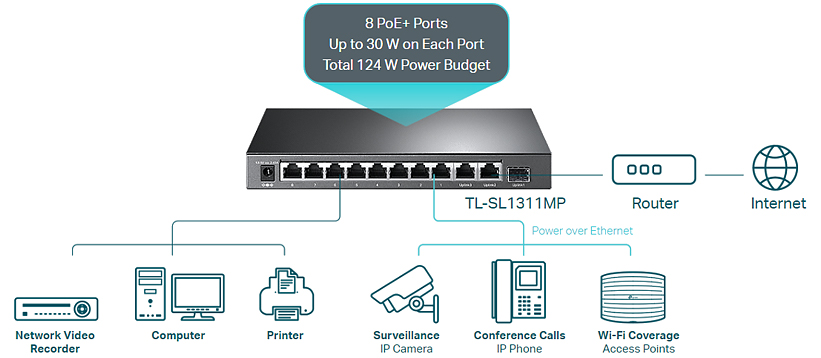 Plug and Play, No Configuration Required



Ideal for IP Surveillance - Up to 250 m Transmissions
With extend mode, the PoE transmission distance reaches up to 250 m*—perfect for IP Camera deployment in large areas.
*The speed of the ports in extend mode will downgrade to 10Mbps. The actual transmission distance may vary due to power consumption of PoE-powered devices or the cable quality and type.

One-Click Traffic Separation
With one click, Isolation Mode easily divides traffic for ports 1–8 to avoid snooping and tampering.
This enables the switch to isolate broadcast storm, improving LAN security and data transmission.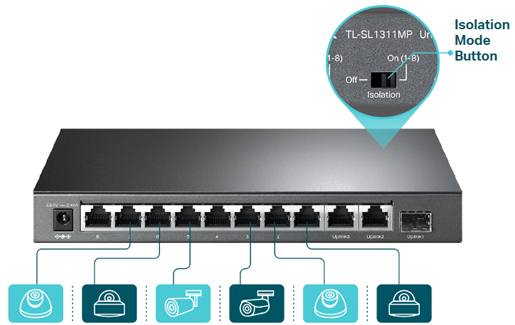 System Self-Healing with PoE Auto Recovery
The switch automatically detects and reboots the PD devices, such as cameras and APs, when they fall offline or go unresponsive, guaranteeing the stable operation of PoE-connected devices, without need for manual monitoring and restart.

Intelligent Power Management
When total power consumption exceeds 66 W, the intelligent power management will cut the lower priority port power. This ensures the high priority port's power supply and protects the device from power overload. It also automatically detects and provides the required power for your PoE devices while protecting your PoE and non-PoE equipment from being damaged.