TP-LINK R480T+ Load Balancing Broadband Router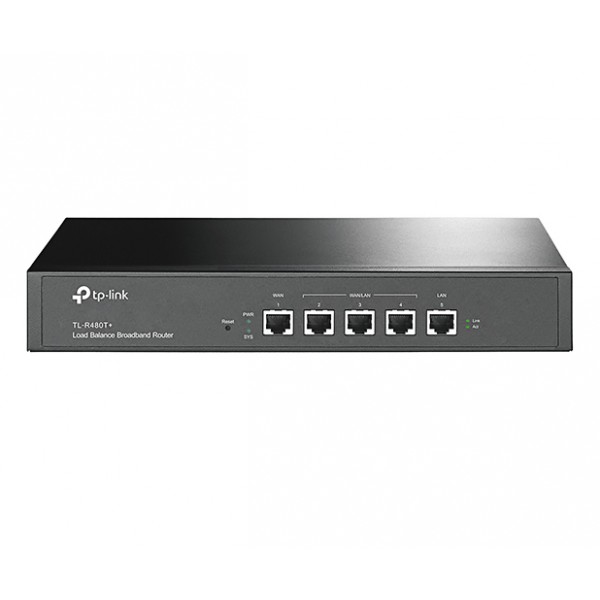 Product Code: TL-R480T+

Download Datasheet:
Brand: TP-LINK
Description
TP-LINK R480T+ Load Balancing Broadband Router

The TP-Link R480T+ load balance broadband router is a wise choice for small businesses. It brings you high return on investment with low overhead. With three software selectable WAN/LAN ports, the R480T+ supports up to 4 WAN ports, which can satisfy various Internet access requirements through one device. The R480T+ integrates multiple load balancing strategies, advanced QoS and strong firewall to provide you with consistent network uptime and reliable Ethernet connectivity. It is also easy to manage the R480T+ via a web-based interface, which makes building and managing your network more convenient.
Three Changeable WAN/LAN Ports
The R480T+ features three changeable ports that can be set to either LAN or WAN, allowing the router to support up to four WAN ports to satisfy various Internet access requirements through one device. The router also has an integrated smart load balancing function which automatically selects the most efficient line according to load and bandwidth requirements, providing users with consistent network uptime and reliable Ethernet connectivity.
Abundant Security Features
For defense against external threats, R480T+ can automatically detect and block Denial of service (DoS) attacks such as TCP/UDP/ICMP Flooding, Ping of Death and other related threats. Moreover, this router provides IP/MAC/URL/Web ­filtering functions, which forcefully prevent attacks from intruders and viruses. For better management of the internal network, The R480T+ allows administrators to set rules to block specific web sites and IM/P2P applications with just one click, and restrict staff to use specific services such as FTP, HTTP and SMTP.
Efficient Access Management
By setting a PPPoE Server to allocate PPPoE accounts to private network users, the router only allows users with legal accounts that have passed authentication to access the Internet. Cooperating with IP-based Bandwidth Control, it is capable of confining bandwidth usage of certain PPPoE accounts. Moreover, the E-Bulletin function is able to release a bulletin in the form of webpage to certain user groups periodically, which notifies the users about the expiration date of the PPPoE account. With the above features, the router will prioritize different users for more efficient management.
Safety Minded Enterprise Investments
Professional lightning protection technology is designed to prevent electrical surges from penetrating the interior of the device, to be discharged harmlessly into the Earth. This router is designed to prevent lightning damage of up to 4kV in the well-grounded connection conditions. This feature ensures that networking infrastructure investments remain as safe as possible from one of Mother Nature's more violent elements.
Product features:


Dynamic IP, Static IP, PPPoE, L2TP, PPTP, Dual Access and BigPond Cable Internet connection options easily connect to broadband

Time-based access control allows parents or administrators to establish restricted access policies for children or staff

IP-based bandwidth control allows administrators to determine how much bandwidth is allotted to each PC which guarantees the performance of VoIP or video applications

PPPoE server and E-Bulletin help administrators better manage the client accounts

App Control function helps administrators to deploy restrictions of IM/P2P, proxy or many other Apps easily

Built-in firewall supports IP address filtering, MAC address filtering, URL filtering and WEB Contents(Java, ActiveX, Cookies) Filtering

IP and MAC binding function effectively prevents ARP virus attacks

Powerful DoS attack protection safeguards your network

Virtual Server, Special Application, DMZ host and UPnP help users build their own servers

DDNS helps users utilize remote management easily with a domain name

Specification
Load Balancer Specs
Interfaces
1 Fixed WAN Port, 1 Fixed LAN Port, 3 Changeable WAN/LAN Ports
Concurrent Sessions
30 000
Flash Memory
8MB
DRAM Memory
64MB
Power Supply
Internal Universal Power Supply, AC100-240V~50/60Hz input