TP-LINK Deco M5 Whole Home WiFi (2-Pack)
Product Code: TL-DECOM5-2

Brand: TP-LINK
Description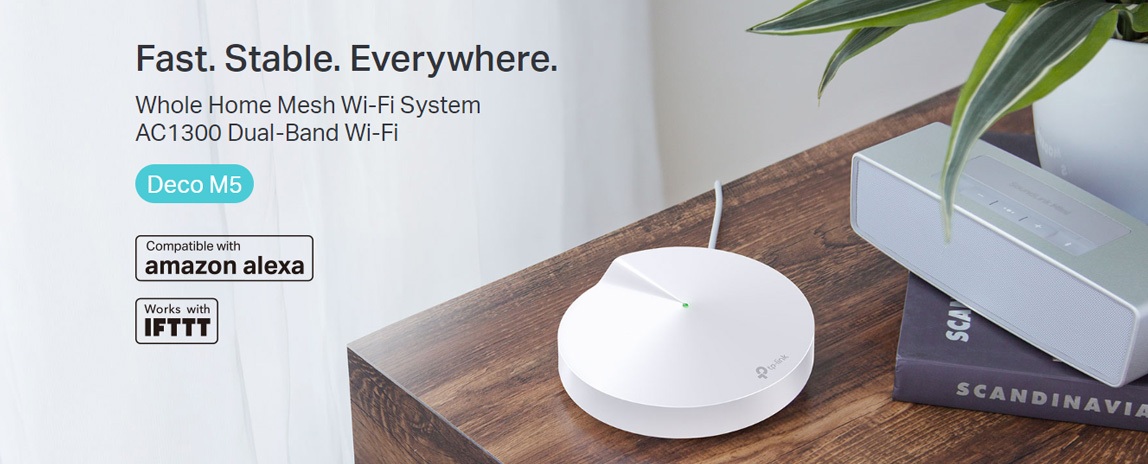 Deco is the simplest way to guarantee a strong Wi-Fi signal in every corner of your home. Enjoy fast, stable connections for an army of devices in homes up to 3,800 square feet (2-pack) . Setup couldn't be easier with the Deco app there to walk you through every step.

Dead-Zone Killer

Eliminate weak signal areas with whole-home Wi-Fi. No more searching around for a stable connection.
Want more coverage? Simply add another Deco.

No More Buffering
Tired of endless loading? With an ever increasing number of bandwidth-hungry gadgets in our homes, you need a network that can rise to the challenge. With network speeds three times faster than the previous generation routers thanks to 802.11ac wireless technology, Deco can provide lag-free connections for over 100 devices.

Let Deco Take Care of Setup

Deco is easy to set up. Simply download the app and let Deco find the perfect spot for the best coverage.

Seamless Roaming
Decos work together to form one unified Wi-Fi network. Your phone or tablet will automatically connect to the Deco that provides the fastest speeds as you move through your home, creating a truly seamless online experience.

Features Down to a Fine Art

HomeCareTM
HomeCare gives Deco the most comprehensive security of any whole-home Wi-Fi system.


Included with Homecare:
Robust Parental Controls

Manage content and control when each device can access the internet.

3-Year Built-In Antivirus

Protect all connected devices in your home from viruses and malware.

Usage Report

Review a monthly list of usage, blocked content and security threats.

Quality of Service

Prioritize devices and applications for faster performance when needed.



Assisted Setup

Deco helps you quickly find the perfect spot to place each unit.





Speedtest

Check on the upload and download speeds of your network to keep it running at full speed.





ART (Adaptive Routing Technology)

Automatically chooses the clearest path for all your devices based on the location of each Deco unit.





24/7 Support

Contact TP-LINK anytime for no-cost technical service, including setup assistance, for the lifetime of your product.

Because Wi-Fi Should Always Work
Deco is a whole-home Wi-Fi solution that keeps your network strong, no matter the size or construction of your home. It creates a unified Wi-Fi network so you can enjoy one seamless connection as you move around your home.