TP-LINK Deco E3 AC1200 Whole Home Mesh Wi-Fi System (2 Pack)
Product Code: TL-DECOE3-2PACK

Brand: TP-LINK
Description



Why Do You Need Deco E3?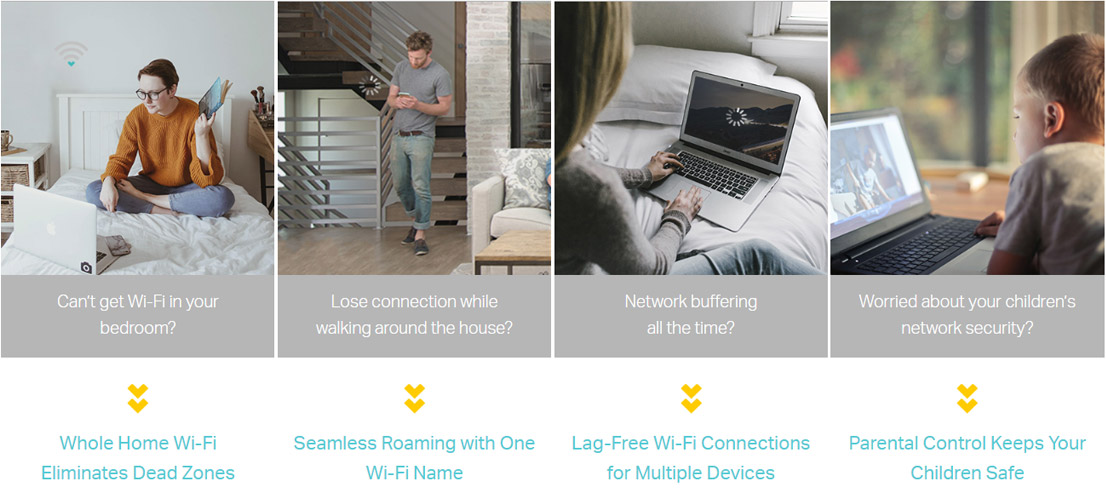 Wi-Fi Dead-Zone Killer
Deco E3 is a simple way to guarantee a strong Wi-Fi signal in every corner of your home up to 2,400 square feet (2-pack, EU version). 2.4 GHz and 5 GHz wireless connections work together to provide even faster network speeds and truly seamless coverage.
Want more coverage? Simply add more Decos.



Convenient Plug-In Wi-Fi for Additional Coverage
Weak Wi-Fi signal in the hallway, kitchen, garage or basement? Get further Mesh Wi-Fi coverage by simply plugging more Deco add-on compact extenders Deco M3W into wall outlet, and enjoy all the functions of the main router.
Notes: Deco M3W needs to work with Deco routers to extend Mesh Wi-Fi



Seamless Roaming with One Wi-Fi Name
TP-Link Mesh means Deco units work together to form a unified network with a single network name. Enjoy uninterrupted streaming, downloading, gaming and more as you move through your home, and no more switching Wi-Fi names, creating a truly seamless online experience.



Seamless Roaming

Uninterrupted streaming when moving around your home





One Wi-Fi Name

No more switching Wi-Fi network names





Stays Fast, Always

Adaptive path selection keeps your network running at top speed





Self-Healing

Ensure you stay online even if one node fails by automatically rerouting data.




All Decos Can Work Together
Deco E3 is compatible with other Deco models to form Mesh network. Expand Mesh Wi-Fi coverage anytime by simply adding more Decos