TP-LINK W9970 300Mbps Wireless N VDSL2/ADSL2+
Product Code: TD-W9970

Download Datasheet:
Brand: TP-LINK
Description
TP-LINK W9970 300Mbps Wireless N VDSL2/ADSL2+ Router

TP-LINK's W9970 supports the latest ITU-T G.993.2 VDSL2 standard, providing up to 100Mbps speed downstream and up stream, compatible with VDSL, ADSL, fiber and cable services. With 300Mbps wireless speed over 2.4GHz band, the W9970 is a perfect choice for users in search of seamless HD video streaming, online gaming and other bandwidth-intensive tasks.
Up to 100Mbps broadband speed
The W9970 supports VDSL2 and backward compatibility with ADSL2+/ADSL2/ADSL, featuring high broadband speeds of up to 100Mbps. It is designed to support the wide deployment of triple play services such as voice, video, data, high-definition television (HDTV) and interactive gaming.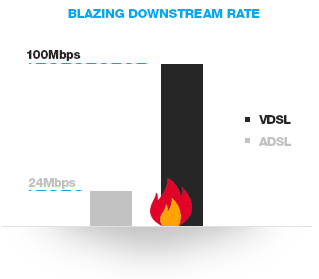 USB Sharing Port - Easy Sharing
Using the W9970's multi-functional USB 2.0 port, users can share printers, files and media either throughout the network at home with several different computers or even away, using the device's FTP server functions so that you never have to part with your files.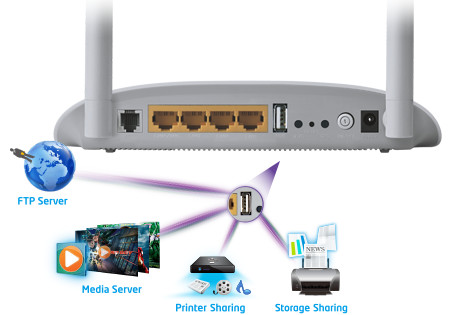 Interchangeable LAN/WAN Port - Versatile Connectivity
The W9970 supports VDSL/ADSL or Ethernet WAN connections (EWAN) that allow users to have the flexibility of different Internet connections among VDSL/ADSL, cable or fiber modem using its interchangeable LAN/WAN port. This unique feature makes it easier when users need to change to fiber or cable services when necessary.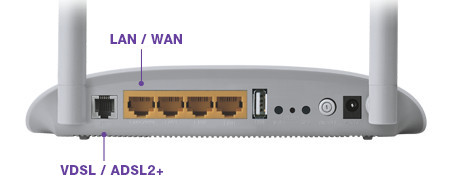 IPv6 Ready
This device supports IPv6, which is foundational to the next generation Internet and enables a range of new services and improved user experiences.
Virtually Impregnable-10 VPN IPsec tunnels
The ability to support up to 10 IPsec VPN tunnels simultaneously gives W9970 users the flexibility to setup a virtual private network, to guarantee network security and take advantage of network access whether at home or away, for work or simply to access files from their local networks.
Product features:
Excellent VDSL2/ ADSL2+ high speed Modem Router, providing up to 100Mbps broadband speeds

Simultaneous 2.4GHz 300Mbps and 5GHz 300Mbps connections for 600Mbps of total available bandwidth

All Gigabit ports ensure ultimate transfer speeds

Two USB 2.0 ports support Storage Sharing (Samba or FTP), Media Server, Print Server and multi accounts

Guest Network Access provides secure Wi-Fi access for guests sharing your home or office network

Parent Control allows parents or administrators to establish restricted access policies for children or staff

IP based Bandwidth Control makes it easier for you to manage the bandwidth of devices that connected to the modem router

Wi-Fi On/Off Switch allows users to simply turn their wireless radio on or off

Easy one-touch WPA wireless security encryption with the WPS button

SPI and NAT firewall protects end-user devices from potential attacks from the Internet

WPA-PSK/WPA2-PSK encryptions provide user networks with active defense against security threats

Simultaneously supports up to 10 IPSec VPN Tunnels

Supports IPv6 (Internet Protocol Version 6)

6000V Lightning Protection helps your device avoid damage from minor thunderstorms

Specification
xDSL Router Specs
DSL
1x RJ11 Port, VDSL & ADSL Supported
Ethernet Interfaces
3x 10/100Mbps Ethernet LAN ports, 1x 10/100Mbps Ethernet WAN/LAN port
Wireless Standards
802.11 b/g/n
Wireless Transmit Power
20 dBm Max
Antenna(s)
2x 2.4GHz antennas