24-Port 10/100Mbps + 2-Port Gigabit Unmanaged PoE+ Switch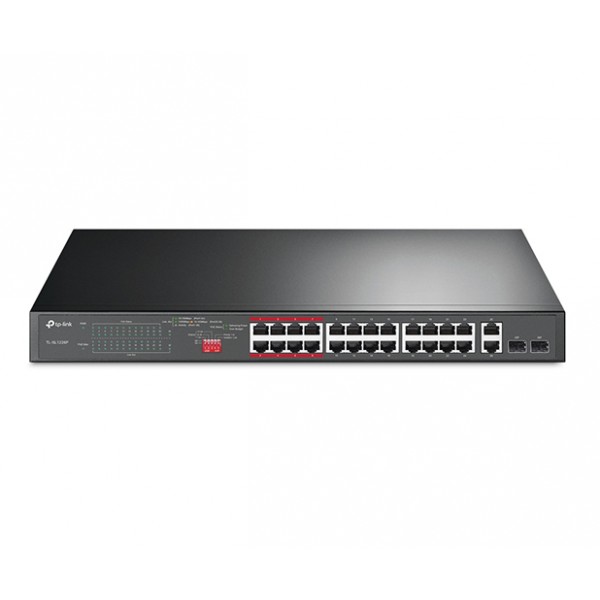 Product Code: TL-SL1226P

Brand: TP-LINK
Description



250 W PoE Power Supply
Compliance with the 802.3af/at PoE+ standard supports up to 30 W on each PoE port. The total 250 W PoE power budget* for the 24× PoE ports makes it ideal for small to medium business surveillance systems.


Dedicated Design for IP Surveillance—Up to 250 m Transmission
With extend mode, the PoE transmission distance reaches up to 250 m**—perfect for IP Camera deployment in large areas.
**The speed of the ports in extend mode will downgrade to 10 Mbps. Actual transmission distance may vary due to cable quality.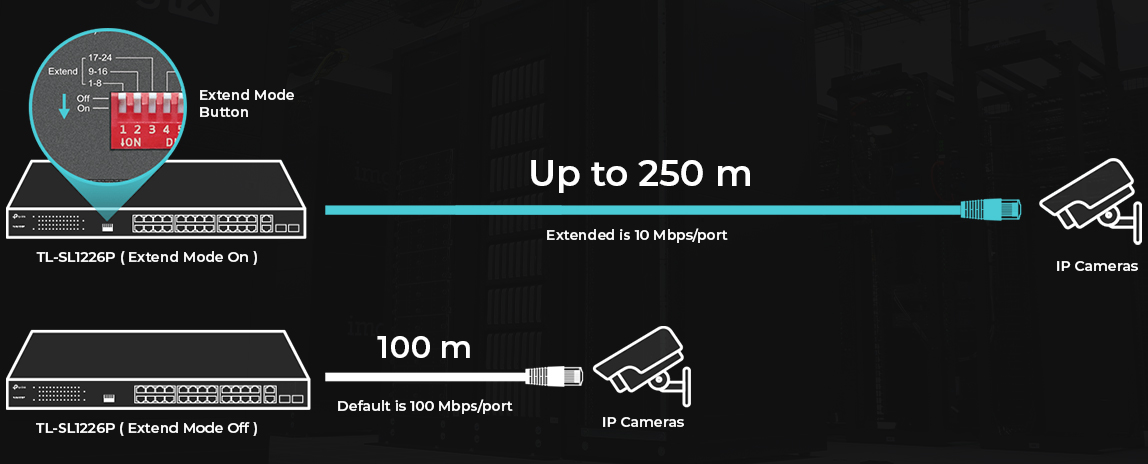 Dedicated Design for IP Surveillance—Higher Performance and Security
Priority Mode and Isolation Mode make surveillance smoother and safer.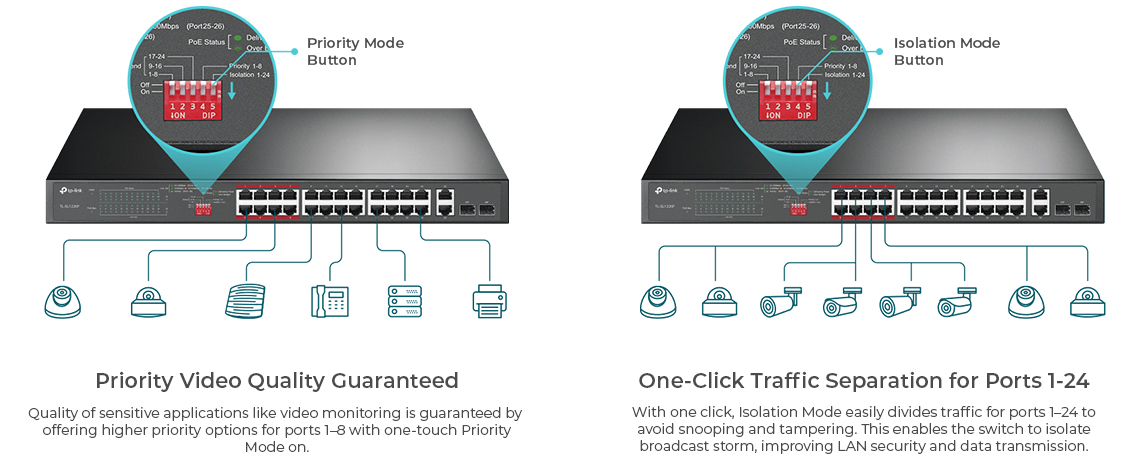 Enjoy Ultra HD Video Screen
TL-SL1226P provides 24× 10/100 M RJ45 ports and 2× gigabit ports. 10/100 Mbps ports or 10 M bandwidth in extend mode are enough to provide smooth streaming even when 24× HD IP cameras work simultaneously.


Intelligent Power Management to Prevent Power Overload
When your total power consumption exceeds 250 W, Intelligent Power Management automatically cuts lower priority ports' power to ensure high-priority ports' power supply. This protects the device from power overload operation. It also automatically detects the required PoE power for your device and protects your non-PoE equipment from being damaged.


Features
24-Port 10/100Mbps + 2-Port Gigabit Unmanaged PoE+ Switch
24× PoE+ 10/100 Mbps RJ45 ports, 2× Gigabit RJ45 ports, and 2× combo Gigabit SFP slots
High PoE power budget with up to 30 W for each PoE port and 250 W for all PoE ports*
Up to 250 m data and power PoE transmission range under Extend Mode**, ideal for surveillance system
Priority Mode ensures high priority of ports 1–8 to guarantees the quality of sensitive applications like video monitor
Isolation Mode allows one-click client traffic separation for higher security and performance
Plug and play, with no configuration and installation needed
Specification
PoE Switch Specs
Switch Interfaces
24× PoE+ 10/100 Mbps RJ45 Ports 2× 10/100/1000 Mbps RJ45 Ports 2× Combo Gigabit SFP Slots
PoE
Standard: 802.3at/802.3af compliant PoE Ports: Port 1 – Port 24 PoE Power Budget: 250 W
SFP slots
2× Combo Gigabit SFP Slots
Switch capacity
8.8 Gbps
Packet forwarding rate
6.5472 Mpps
Power Consumption Max
18.32 W (220/50 Hz. no PD connected) 294 W (220/50 Hz. with 250 W PD connected)