PoE Smart Power Bank (DC, USB, 24V & 48V PoE Output)





Product Code: .POE-RP7500A

Description
PoE Smart Power Bank (DC, USB, 24V & 48V PoE Output)
The ultimate power bank for professionals & technicians!
The PoE Smart Power Bank allows you to power nearly any networking equipment such as
IP Cameras, IP Phones, Wireless Access Points & Wireless CPE's, making it the ideal power solution when travelling or on the road.

Long running time, so you can use it through the whole day.
Features a Li-Ion battery with 7500mAh capacity, this impressive little battery offers
more then 12 hours of operating time when full power consumption is 10W.









Versatile power options, to power any equipment that you need:



DC Output: 12V / 3A

Power an IP camera to configure the unit or test the video quality, before mounting the camera. No need to have a power point nearby!




USB Output: 5V / 2A

Ran out of battery power on your cellphone on the way to a client's site? No problem, you can charge your phone or table from the power bank's 2A USB port.




Passive PoE: 24V / 1A

Power passive PoE devices such as Ubiquiti or MikroTik units. Extremely handy when you need to do a site survey.




802.3af PoE: 48V / 0.5A

Power up devices such as an enterprise access point (Ubiquiti UniFi AC PRO) or IP VoIP phone from this Gigabit PoE port.
One Power Bank to Power All Your Equipment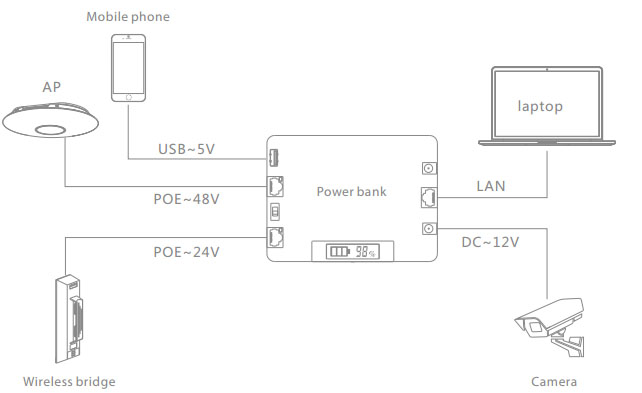 Battery Status Display
The PoE Smart Power Bank always monitors the current battery level, so that you're never caught off gaurd.
The side has a LCD screen dedicated to clearly display the battery level (switchable to percentage or voltage).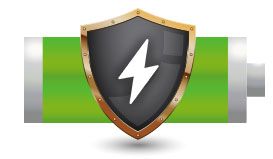 Safety Built In
The Power Bank has built-in safety measures such as overcharge, over-current,
and short-circuit protection, to ensure your device lasts over time.


Package Contents:

Specs at a glance:
Weight: 0.6kg
Battery capacity: Li-lon 7500mAh 12.6V/94.5Wh
Working temperature: -10C to 60C


Power Output:
USB: 5V/2A
DC: 12V/3A
POE: 24V/1A
POE: 48V/0.5A Gigabit ( 802.11af )

Power Input:
Input voltage: 12.6V
Input electric current: 2A
Charging period: 4h