Powercom RAPTOR 600VA Line Interactive UPS (new AP model)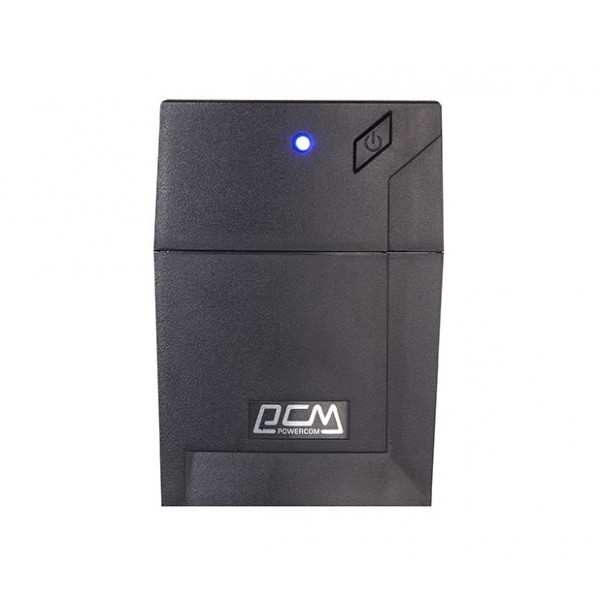 Product Code: PCM-RPT-600AP

Brand: Powercom
Description
Powercom RAPTOR 600VA Line Interactive UPS (new AP model)

RAPTOR is a Line Interactive Step-Wave UPS that protects your devices from many dangerous interferences on the mains.
The new 600AP model features RJ45 ports with Surge Suppression, as well as a USB port to interface with a computer. Monitoring software (UPSMon) is included.

The AVR device that it includes, shields you from a number of disturbances and reduces to a minimum the use of the batteries. This creates a double benefit: maximum autonomy always available and a longer battery life.
Product Features:
Built-in automatic voltage regulator (AVR)
Simulated sine wave output waveforms
Advanced green mode for energy saving and user friendly settings
Automatic self-diagnostic and alarm warnings
Surge, short circuit, and overload protections
Discharge and overcharge protection
Specification
UPS Specs
Input Voltage
100V / 110V / 120V ±25% 220V / 230V / 240V ±25%
Input Frequency
50Hz / 60Hz ±10% auto sensing
Output Connections
3 x IEC 10A Sockets
Output Voltage (Backup mode)
100V / 110V /115V / 120V (±5% on battery) 220V /230V / 240V (±5% on battery)
Output Frequency (Backup mode)
50Hz / 60Hz ±1%
Output Waveform
Simulated sine wave
Output Transfer Time
2 to 4 millisecond including detection time (typical)
Automatic Voltage Regulator (AVR)
AVR with 1 step boost and 1 step buck
Overload Protection
Auto power off if overload exceeds 110% of nominal at 60 seconds; 130% at 3 seconds
Unit Input Protection
Fuse or overload & short circuit protection
Tele-communication Protection
RJ45 Surge Supression
Alarm
Buzzer beeps under backup mode, battery low, battery charging fault, and overload
Battery Type
Sealed, maintenance-free lead acid battery
Typical Recharge Time
3-4 hours to 90%
Battery Quantity
12V 7Ah x1
Battery Protection
Automatic diagnostics, over-discharge and short circuit protection
Display
LED
Communication Interface
USB
Audible Noise
< 40dBA (1m from surface)
Ambient Operation
Max elevation at 2000m, 0 to 40C, 0 to 95% humidity (non-condensing)