Powercom RAPTOR 1000VA Line Interactive UPS (new AP model)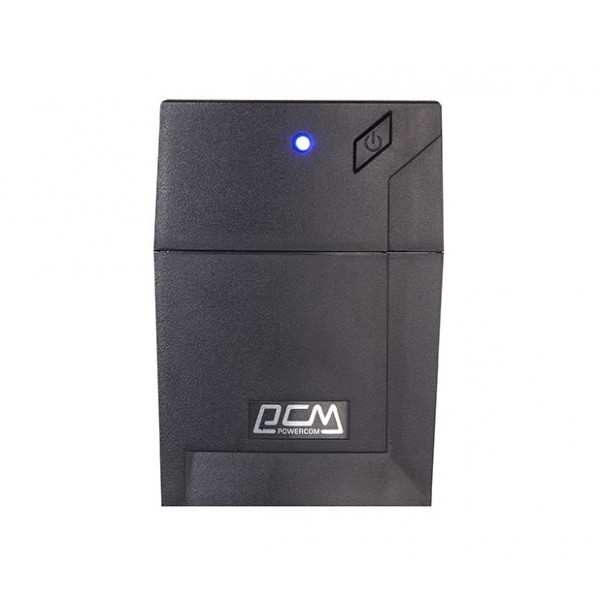 Product Code: PCM-RPT-1000AP

Brand: Powercom
Description
Powercom RAPTOR 1000VA Line Interactive UPS (new AP model)

RAPTOR is a Line Interactive Step-Wave UPS that protects your devices from many dangerous interferences on the mains.
The new 1000AP model features RJ45 ports with Surge Suppression, as well as a USB port to interface with a computer. Monitoring software (UPSMon) is included.
The AVR device that it includes, shields you from a number of disturbances and reduces to a minimum the use of the batteries. This creates a double benefit: maximum autonomy always available and a longer battery life.
Product Features:
Built-in automatic voltage regulator (AVR)
Simulated sine wave output waveforms
Advanced green mode for energy saving and user friendly settings
Automatic self-diagnostic and alarm warnings
Surge, short circuit, and overload protections
Discharge and overcharge protection
Please Note: The Raptor UPS Series has an automatic shutdown function after 1 hour of battery operation (if AC/Mains power is off).
This is a safety feature to avoid over discharge of the batteries and prevent permanent damage to the batteries. It is recommended to install the included UPSMON software to monitor the battery capacity; if the batteries still have sufficient charge & capacity left after the hour runtime, the Power button can simply be pressed again to switch the UPS on and enable another hour of uptime.
Specification
UPS Specs
Input Voltage
100V / 110V / 120V ±25% 220V / 230V / 240V ±25%
Input Frequency
50Hz / 60Hz ±10% auto sensing
Output Connections
3 x IEC 10A Sockets
Output Voltage (Backup mode)
100V / 110V /115V / 120V (±5% on battery) 220V /230V / 240V (±5% on battery)
Output Frequency (Backup mode)
50Hz / 60Hz ±1%
Output Waveform
Simulated sine wave
Output Transfer Time
2 to 4 millisecond including detection time (typical)
Automatic Voltage Regulator (AVR)
AVR with 1 step boost and 1 step buck
Overload Protection
Auto power off if overload exceeds 110% of nominal at 60 seconds; 130% at 3 seconds
Unit Input Protection
Fuse or overload & short circuit protection
Tele-communication Protection
RJ45 Surge Supression
Alarm
Buzzer beeps under backup mode, battery low, battery charging fault, and overload
Battery Type
Sealed, maintenance-free lead acid battery
Typical Recharge Time
3-4 hours to 90%
Battery Quantity
12V 9Ah x1
Battery Protection
Automatic diagnostics, over-discharge and short circuit protection
Display
LED
Communication Interface
USB
Audible Noise
< 40dBA (1m from surface)
Ambient Operation
Max elevation at 2000m, 0 to 40C, 0 to 95% humidity (non-condensing)