Noyafa Advanced Multi Function Cable Tester with TDR Theory
Product Code: NF-8601S

Download Datasheet:
Brand: Noyafa
Description
Noyafa NF-8601S Advanced Multi Function Cable Tester with
PoE/Ping Functions & TDR Theory fault finding

An essential tool for both professionals and enthusiasts, which provides full cable testing on different cable types such as network cable, coax, or telephone cable.
The intelligent wiremap's feature tests for length, shorts, split pairs, or opens and displays the info with an intuitive graphical interface where a fault is located (using TDR technology: Time Domain Reflectometry).
Product Features:
Measures cable length and display the distance to fault. Core troubleshooting features: length, distance to fault, graphical wire mapping, open circuit, short circuit.
PoE Presence: identify which pins are providing power and detect how much voltage.
PING function to test network performance, data packet min & max response time.
Tone & trace cable with complete AC Interference Rejection, much easier than other tracers.. Two tone tracing modes: common switch & PoE Switch.
Hub blink function for locating network port by the flashing port light on a server/switch/hub/router port.
Voltage detector: included in receiver (90-1000V)
LCD color screen (320x240) and built in lighting LED to illuminate dark areas when working in confined spaces (such as a network cabinet).
Low voltage alarm function and automatic delay power on-off.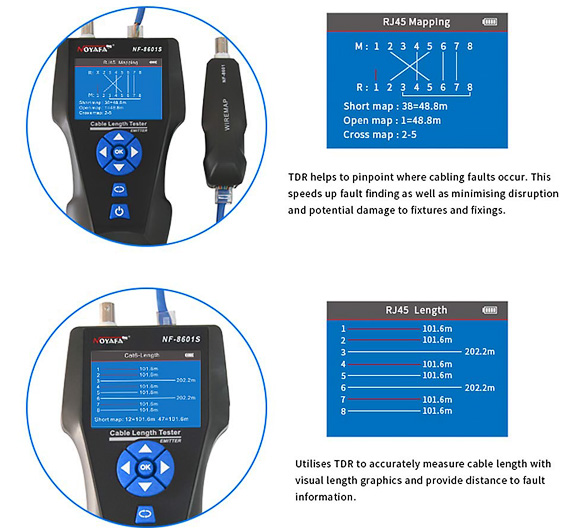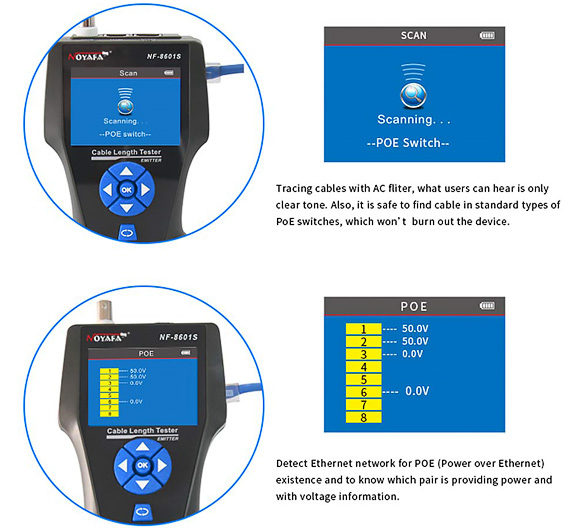 NF-8601S Transmitter specifications

Indictor

LCD 320x240 mm, with backlight

Cable test types

STP/UTP 5E,6E network , telephone , coaxial cable.

Max. distance of wiremap

1000 m

Max. distance of tracing

1000m

Max. distance of cable length

1000 m

Min. distance of calibration

50 m

Accuracy

up to 98% ( after calibration )

Compatible connectors

RJ11, RJ45, PING/POE, BNC

Cable map indication

LCD (#1-#8)

Battery Type

3.7V lithium battery 1800mAh

Work temperature / humidity

10℃ ~ -60℃ / 0℃~70℃

Dimension(LxWxD)

173x92x34mm

NF-8601S Receiver specifications

Cable hunting

RJ11,RJ45, BNC

Types of cable

≥ 2 cores

Battery Type

3.7V lithium battery 1800mAh

Dimension(LxWxD)

183x58x35 mm

NF-8601S Remote unit specifications

Compatible connectors

RJ11,RJ45, BNC

Dimension(LxWxD)

106x32x30mm