Micro UPS (DC-to-DC 30W) with PoE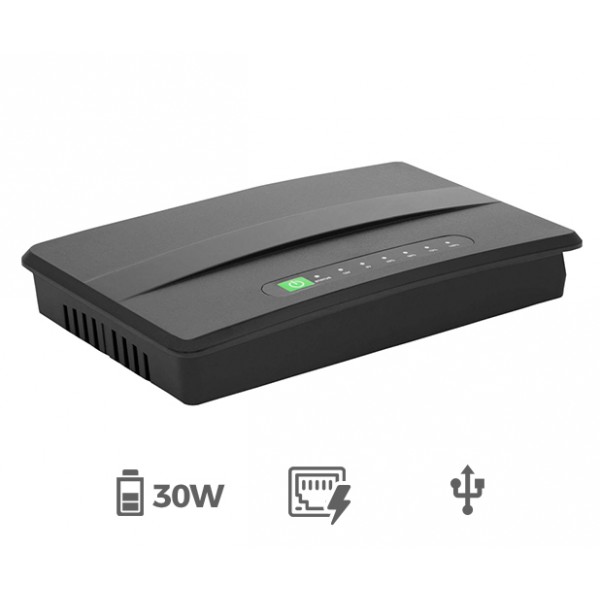 Description
Micro UPS (DC-to-DC 30W) with PoE Output


The Micro UPS series delivers clean, automatic, reliable, constant power to small DC devices during power outages or where grid power is not available.
The unit is a 30W DC-to-DC micro UPS with USB, PoE and DC output options, ideal for backing up cameras, routers and other 12V devices. The MUPS30P model offers passive PoE output additionally, ideal to keep your Wireless CPE or Router (such as MikroTik or Ubiquiti products) going during a power outage. Simply run a Ethernet cable directly from the Micro UPS to your CPE/Router to power it up.
Unlike a traditional powerbank that solely provides backup power when needed, the Micro UPS remains in-line between your device and the power source and modulates the incoming power feed to prevent damage to your sensitive electronic equipment.

Switchover to the Micro UPS in the instance of a power outage is automatic and instantaneous.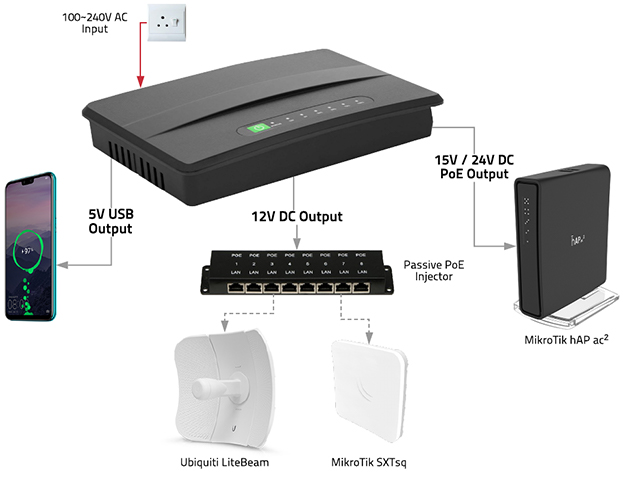 Micro UPS Model Comparison


Model

Max
Output

USB
Interface

DC
Interface

PoE
Interface

Solar
Input

Backup Time at 12V (hours)

Battery
Capacity

15W

20W

30W

40W

MUPS15

15W

-

-

4

-

-

-

4 x 2200mA

Li-Ion Battery

MUPS15P

15W

-

4

-

-

-

4 x 2200mA

Li-Ion Battery

MUPS30

30W

-

-

4

3

2

-

4 x 2200mA

Li-Ion Battery

MUPS30P

30W

-

4

3

2

-

4 x 2200mA

Li-Ion Battery

MUPS30S

30W

-

4

3

2

-

4 x 2200mA

Li-Ion Battery

MUPS60PS

60W

15

10

7.5

5

8 x 2200mA

Li-Ion Battery