UltraLAN RJ45 SFP Module - 1.25G Ethernet Module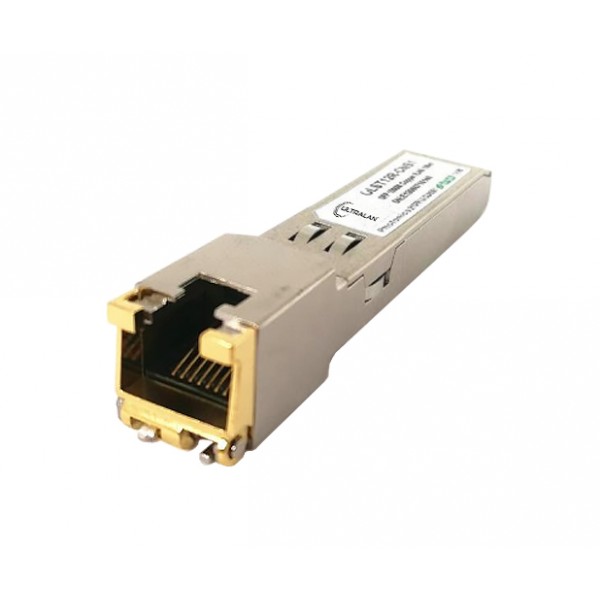 Product Code: FIB-SFP-ULST12R-CDS1

Download Datasheet:
Download Full SFP Catalog:
Brand: UltraLAN
Description
UltraLAN RJ45 SFP Module - 1.25G Ethernet Module
The UltraLAN Copper Small Form Pluggable (SFP) transceivers are high performance, cost effective modules compliant with the Gigabit Ethernet and 1000BASE-T standards as specified in IEEE 802. 3-2002 and IEEE 802.3ab, which supports 1.25G data rates up to 100 meters in distance over unshielded twisted-pair CAT5 cabling.
This module only supports Gigabit data rates, with 5-level Pulse Amplitude Modulation (PAM) signals. All four pairs in the cable are used with symbol rate at 250Mbps on each pair.

Please note: This UltraLAN RJ45 SFP module is only capable of running at 1.25G, and is currently not compatible with MikroTik equipment. These modules have been tested and are compatible with Ubiquiti devices (EdgeMAX & UniFi device ranges) and any other devices with an SFP slot.
Product Features:
1.25Gb/s bi-directional data links
Compact RJ-45 connector
Hot pluggable SFP footprint
1 Gigabit Ethernet over CAT5 cable
Applicable for 100m distance transmission
Low power consumption, < 1.2W
Access to physical layer IC via 2-wire serial bus
UltraLAN Part Code Matrix: