UltraLAN GPON ONT (SFU - SC/APC)




Product Code: FIB-ONT-SC/UPC-SFU

Brand: UltraLAN
Description
UltraLAN GPON ONT (SFU - SC/APC)
A robust, high-performance Fiber GPON CPE that features extremely low power consumption with fast bandwidth speeds. Supports GPON links of up to 20km, with a max downstream speed of 2.5Gbps, and upstream rate of 1.25Gpbs. The ONT is compatible with major 3rd party vendor's OLT units. This is a
SFU
(Single Family Unit) ONT.
Features:
GPON mode (can access GPON OLTs).
Plug and play, integrate auto detection, auto configuration and auto firmware upgrades.
Support downstream 2.5Gbps and upstream 1.25Gbps with transmission distance to 20km.
Fiber access and gigabit port provide incredibly fast transfer speeds.
Supports OMCI (ONT Management Control Interface) remote management.
Support IPv4/ IPv6 IGMP snooping and MLD snooping.
Differences between SFU and HGU ONT's:


SFU ONT

HGU ONT

Type of PON

EPON / GPON

EPON / GPON

EPON/GPON Standard

IEEE 802.3/802.3ah
ITU-TG.984.x

IEEE 802.3/802.3ah
ITU-TG.984.x

Bridging /Routing

Bridging/L2

Bridging/L2 and Routing/L3

WAN Configuration

Not Supported
Supported
TR069 Function

Not Supported
Supported
OLT to configure its Ethernet Ports

Supported
Not Supported
NAT Function

Not Supported
Supported
Port Forwarding Function

Not Supported
Supported
Loop Detection Function

Supported
Not Supported
DHCP Server

Not Supported
Supported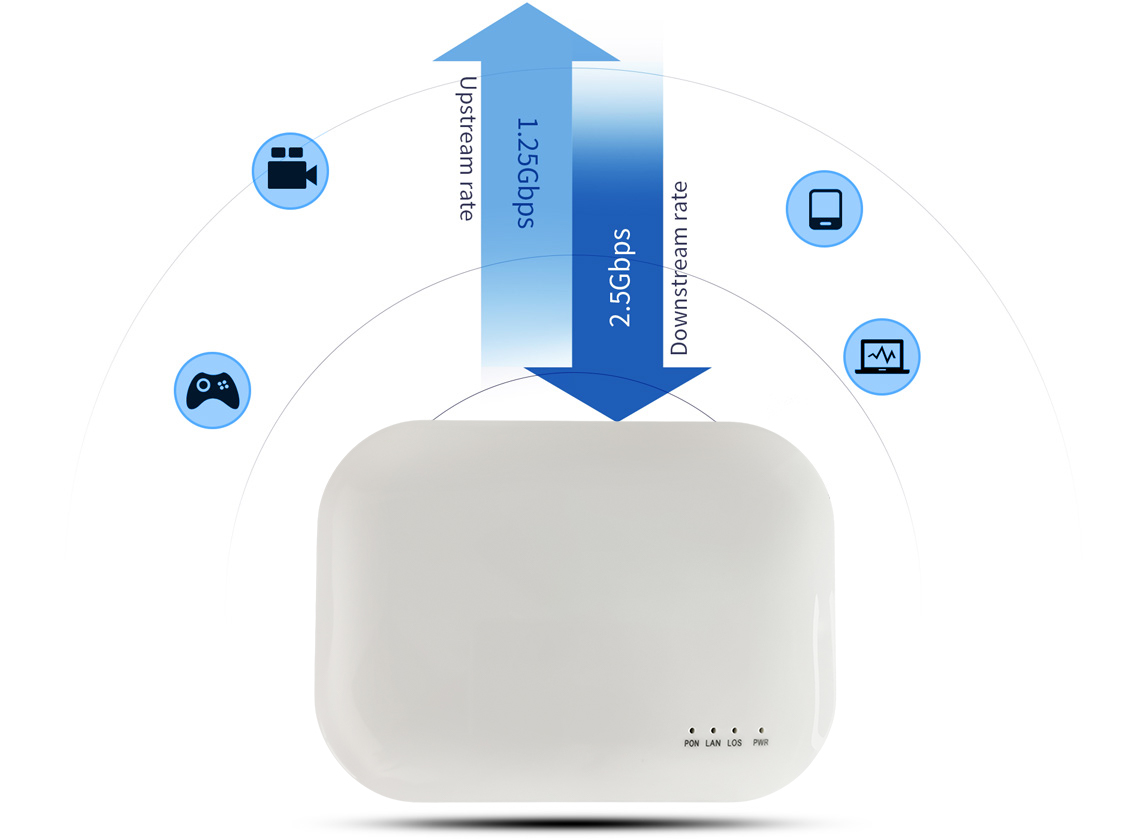 Specifications:
Distance

20km Maximum
Data Rates

Upstream rate 1.25Gbps
Downstream rate 2.5Gbps

PON TX Power

1~5dBm (1310nm)

PON RX sensitivity

<-28dBm (1490nm)

Power

≤ 3W

Interfaces

1x SC/APC PON (Passive Optical Network) Port
1x 10/100/1000Mbps LAN port

Buttons

Reset Button

Power Supply

DC 12V 0.5A

Operating Temperature

-10°C~50°C

Storage Temperature

-40°C~70°C

Operating Humidity

10%~90%, non-condensing

Storage Humidity

5%~90% non-condensing