Escene ES206-PN 2 Line VoIP Phone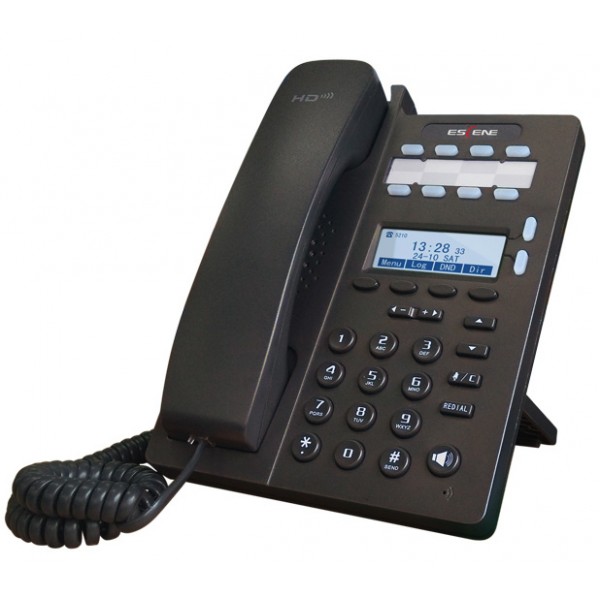 Product Code: ES206-PN

Download Datasheet:
Brand: Escene
Description
Escene ES206-PN 2 Line VoIP Phone
The ES206-PN is a smart office IP phone with rich features. It has 128x64 HD graphic LCD up to 4-line display; it also has HD Sound Quality, unique art design, detachable bracket to provide multi-angle standing/mounting points, 13 programmable keys, and a friendly user interface.
Please take note: Phone can be powered via PoE (802.3af/at) or via 5V DC (DC Jack). Please note that no PSU is included.

Features:

128x64 graphic LCD.

Supports 2 SIP accounts

8 programmable keys

Adjustable bracket

Supports PoE

Auto-provision via FTP/TFTP/HTTP/HTTPS

Phone Features

2 SIP accounts, Hot line
Call hold, Call waiting, Call forward, Call return; Call transfer (blind/busy/ask)
Caller ID display, Redial, Mute, DND
Auto-answer, 3-way conferencing
Speed dial, SMS, Voicemail
Tone scheme, Volume control
Direct IP call without SIP proxy
Ring tone selection/import/delete
Black list, Hand-free indicator.
Call history: dialed/received/missed (50 -entries);
Soft keys programmable, Supports PC control
Multi-Language: Chinese,English,French,Russian,Italian,Polish,Portuguese,Spanish,Turkish
Advanced Features
13 programmable keys
XML Phone Book search and input & output
Enterprise phone book(800 entries)
LDAP phone book
IP PBX System Integration
Busy lamp field (BLF), BLF list
Bridged line appearance (BLA)
DND & Forward synchronization
Intercom, Paging, Music on hold
Call pickup, Dial Plan, Call recording Anonymous call, Anonymous call rejection
Network conference, Distinctive ring tone
Codes and Voice Features
Wideband Codec: G.722
Narrowband codec: G.711μ/A, G.723.1
G.726, G.729AB,iLBC
VAD, CNG, AEC, AGC, Full-duplex
Security
VLAN QoS (802.1pq)
Phone lock for personal privacy protection
Admin/User 2-level configuration mode , LLDP, CDP
L2TP VPN tunneling protocol - added
Network Features
SIP v1 (RFC2543), v2 (RFC3261)
SIP connection: Proxy mode & Peering Points mode;
DNS SRV (RFC3263);
Redundant server support
NAT Traversal: STUN mode
DTMF: In-Band, RFC2833, SIP Info, Auto
HTTP/HTTPS Web Management
IP Assignment: Static/DHCP/PPPoE
Bridge/Router mode for PC port
TFTP/DHCP/PPPoE client
DNS client, NAT/DHCP server
Layer 3 ToS, DSCP
Management
Auto-provision via FTP/TFTP/HTTP/HTTPS
SNMP V1/2
Configuration: browser/phone/auto-provision
Trace package and system log export
Physical Features
128x64 graphic LCD, Backlight
33 keys, including 13 programmable keys,
3 LEDs: 2x Account lights, 1x Status light
1x RJ-9 handset port
1x RJ-9 headset port (Optional)
2xRJ45 10/100M Ethernet ports

DC Power: 5V/1A input (DC Power supply not included)
Power over Ethernet ,IEEE 802.3af,class 0
Power consumption: 1.5W