Ubiquiti AirGrid M5 27dBi
Product Code: AG527

Download Datasheet:
Brand: Ubiquiti
Description
Ubiquiti AirGrid M5 27dBi
Maximum RF Performance

Utilizing InnerFeed™ technology, the new airGrid™ M HP Series from Ubiquiti Networks™ represents the latest evolution of outdoor wireless broadband devices. The revolutionary InnerFeed technology integrates the entire radio system into the feedhorn of the antenna. airGridM combines Ubiquiti's InnerFeed and airMAX™ (TDMA protocol) technologies to create a simple, yet extremely powerful and robust wireless CPE (Customer Premises Equipment).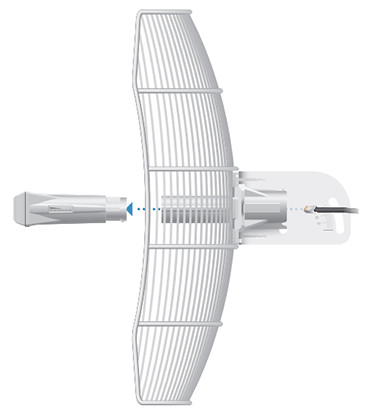 A complete antenna and radio system integration provides affordable cost/performance solutions to the wireless broadband industry. airGridM operates in the worldwide, license-free 5GHz frequency range, and features breakthrough performance up to 100+ Mbps in real outdoor throughput and incredible range of up to 30km. The low-cost, high‐performance, robust "all-in-one" design and light weight of airGridM make it versatile and ideal in several different applications.
Powerful airOS® Features
Ubiquiti's versatile airOS® firmware technology enables high-performance, outdoor multi-point networking. airOS provides features such as wireless settings, bridge or routing configuration and system management services.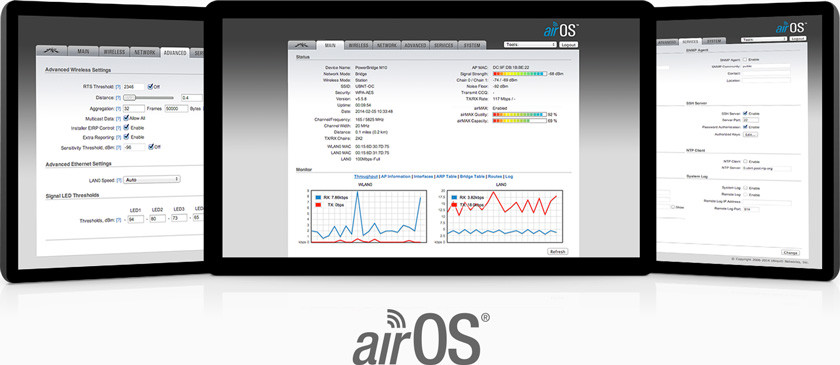 Advanced Software Technology
Unlike standard Wi-Fi protocol, the exclusive Ubiquiti Networks airMAX Time Division Multiple Access (TDMA) protocol allows each client to send and receive data using pre-designated time slots managed by an intelligent AP controller. This "time slot" method eliminates hidden node collisions and maximizes airtime efficiency. The updated mechanical design makes assembling and disassembling the airGridM, literally, a snap. No tools are required. Compared to other systems in its class, the airGridM delivers superior performance in reduced latency, throughput, and scalability.